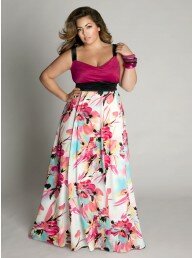 IGIGI has just unveiled a gorgeous addition to their dresses collection: the Eos Goddess Maxi Dress.
Forming part of IGIGI's Limited Collection this stunning gown will definitely help you make a lasting impression, wherever you choose to wear it.
This fully lines dress features a stretch bodice with a very flattering sweetheart neckline and an empire waist-line. The straps are nice and bra friendly and the tie-around belt ensures a perfect fit.
The gown retails at $168 and is currently available up to size 32.