To make sure you keep up to date with our latest posts subscribe to our RSS feed. You can also receive updates via email, subscribe for free here!. Thanks for visiting!
The plus size fashion label is synonymous with simply fabulous full figured clothing. With her fashion forward designs Monif C. truly provides curvy fashionistas with unique fashions that satisfies their hunger for something new, something more, something that makes them feel like they are on a catwalk! Over the past month or so, I've seen Monif also deliver a very stylish collection of plus size swimwear, most designs being sold out in a matter of weeks.
Well Monif C. has just introduced some new items to her collection, and she continues to impress. Here new dresses and jumpsuits includes a mix of vibrant colors, innovative cuts, and figure flattering designs. Here's a look at the highlights from these new additions.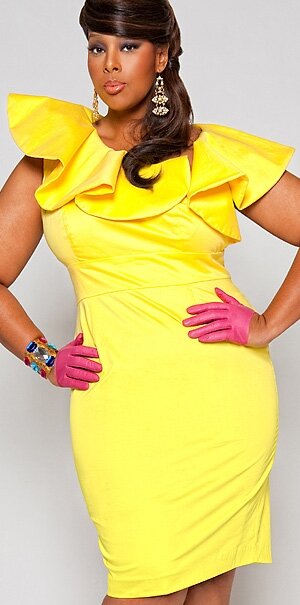 The "Ivana" Ruffle Dress, available in both yellow and crisp white is my favorite dress from this collection. This is a classic dress, with a twist, which will definitely help you make a statement wherever you're wearing it! This dress is perfect for a day wedding, girl's brunch, graduation part, or even an alfresco dinner out with your partner. The beautiful ruffle neckline and flattering empire waist cinches in the dress to give you a great shape!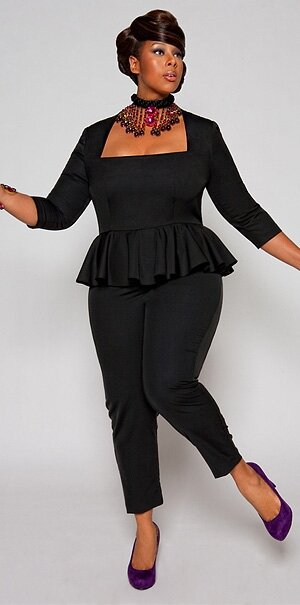 Another stunning piece is the "Alexis" Peplum Jumpsuit. This is a sleek and fresh design, which will make you feel like you are on the cover of Vogue! Jumpsuits are super comfy and can be worn by any shape or size, and the Monif C. fit is designs especially for the curvy body. The peplum right above your natural waist emphasized the smallest part of out body and camouflages any extra tummy curves you would rather hide. The pencil bottom stop right at your ankle, so you can show off those pretty feet in some hot high heels.
Other jumpsuits from Monif C. within this collection include the "Nikka" Fire Print Jumpsuit and the "Eva" Jumpsuit, both of which can be word with two straps or as a one-shoulder style, thanks to a detachable strap. The billowy banded legs give these jumpsuit that final designer touch.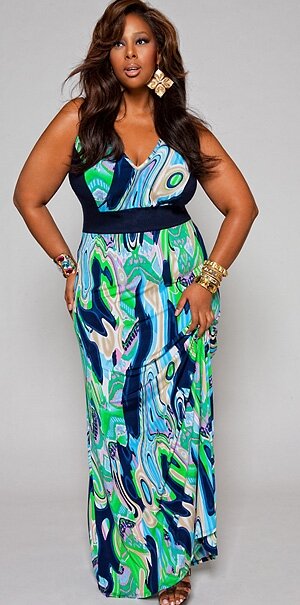 Monif's new collection would not have been complete with out a maxi dress, and she definitely quenches any fashionista's thirst for style with the "Anastasia" Blue Printed Maxi Dress, which is simply perfect for summer. This print works both for day and night, so perfect for a variety of different occasions. The vibrant blue print comes along with navy banding around the waist.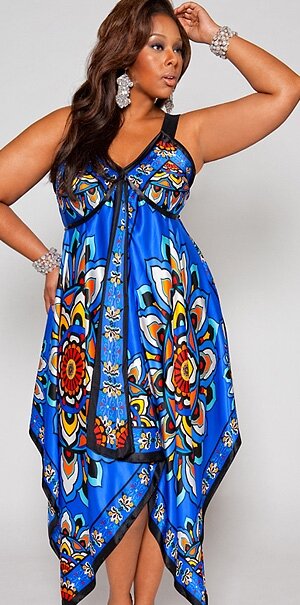 Finally, another hot style for the season, the "Nia" Silk Butterfly Dress. This dress includes the perfect balance of comfort and style. This gorgeous scarf dress has an asymmertical hem and under bust tie to cinch in the dress. Make from pure silk, this dress is simply luxurious.
So what do you think of Monif C. new collection? Which one is your favorite?
Keep in mind that currently almost all these dresses are available only on pre-order, most of which will start shipping out in mid May. If you fancy a particular dress I suggest you pre-order it today as Monif C. designs have a tendency to get sold out pretty quicklyl… and you don't want to be diasppointed do you?