To make sure you keep up to date with our latest posts subscribe to our RSS feed. You can also receive updates via email, subscribe for free here!. Thanks for visiting!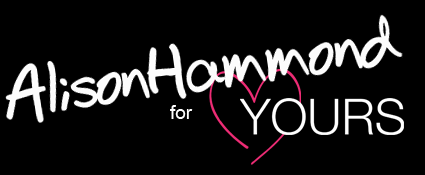 'This Mornings Showbiz' reporter and ex-Big Brother (UK) house mate Alison Hammond is currently collaborating with Yours Clothing on a clothing line which is due to be launched shortly!
Alison will be selecting a range of clothes to create the "Alison Hammond for Yours Clothing" – a range of real clothes for real women. The upcoming range reflects Alison and Yours Clothing's passion for promoting on-trend fashionable clothes for real women just like her and the range will be available exclusively online at www.yoursclothing.co.uk.
I had a chance to speak with Alison briefly yesterday about this exciting new line, and this is what she had to say: "Yours Clothing asked me to choose a range, and I really wanted to choose a real range for real women! It's a range that will fit but flatter, be quality on trend, but at a good price!"
She's the UK's biggest star and 2008's 'Most Popular TV Presenter'. Alison has notched up over 7 years on UK screens as the people's favourite with a personality you can never forget!
It's her unforgettable charm and sense of fun that rate her number one with the celebrities too: she's tap danced with Renee Zellwegger, rapped with Will Smith, jammed with Russell Crowe and had Pierce Brosnan begging for more. Known for her quick wit, style and big heart, nobody gets a better interview than Alison.
Alison is also an accomplished actress having appeared in various TV dramas, notably: Boon, Chalkface, Locksmith, Yes and 3 series of the BAFTA awards winning Palace Hill. She's larger than life and she's ready to take Yours Clothing by storm.
Visit Yours Clothing to find out more and be in with a chance of winning some of the range!