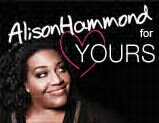 The Alison Hammond range at Yours Clothing is due to be launched at the end of March and Alison is currently recruiting real plus size women who can help her to model her range once launched.
If you think you could model the Alison Hammond range then send a photograph of yourself to or to the following mailing address: Yours Clothing Press Office, 1184 Lincoln Road, Werrington, Peterborough, Cambs, PE4 6LA.
The closing date for entries is Friday, 26th March at 5p.m. Three winners will be chosen by
Alison Hammond herself and will receive an all expenses paid trip to the exclusive launch. They will also receive items from the range that they can personally select!
What are you waiting for girls? Send in your photo! Good luck to all.