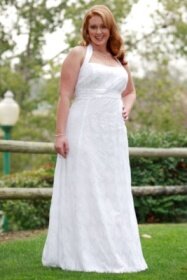 If you're like me, you probably shop at Torrid all the time. They've got one of the best collections of plus size women's fashion on the net… or anywhere else. And now they're introducing beautiful, figure flattering wedding gowns perfectly suited to the plus size shape. While their new selection of plus size wedding gowns isn't the biggest you've ever seen, each gown is beautifully flattering and perfectly suited to curvier shapes. In particular I love the Divine White Lace Halter Bridal Gown… so romantic and pretty.
They've also got all the bridal accessories you'll need for your big day, including great shoes, veils, jewelry… and best of all, super sexy bridal underwear. Yeah, baby.
Not planning on being a bride anytime soon, but have about a dozen invitations to summer weddings? Take a look at Torrid's selection of dresses for attending a summer wedding. Just be careful not to outshine the bride – it's not very polite.