Stunning Holiday Styles from Kiyonna (Our 9 Top Picks)
By
Sarah
on November 16, 2015
As the holiday party invites start to come in, now is the time to shop for any evening and party wear you might need for the Holiday Season! Perhaps you have the office Christmas party lined up, or another special holiday do.
Today we've picked out very favourite holiday styles from the wonderful selection available at Kiyonna to help make you shopping easier and much more enjoyable. Enjoy browsing through these simply stunning styles; whether you're looking for a dress, a top or a skirt, Kiyonna has got you covered.
Dresses & Gowns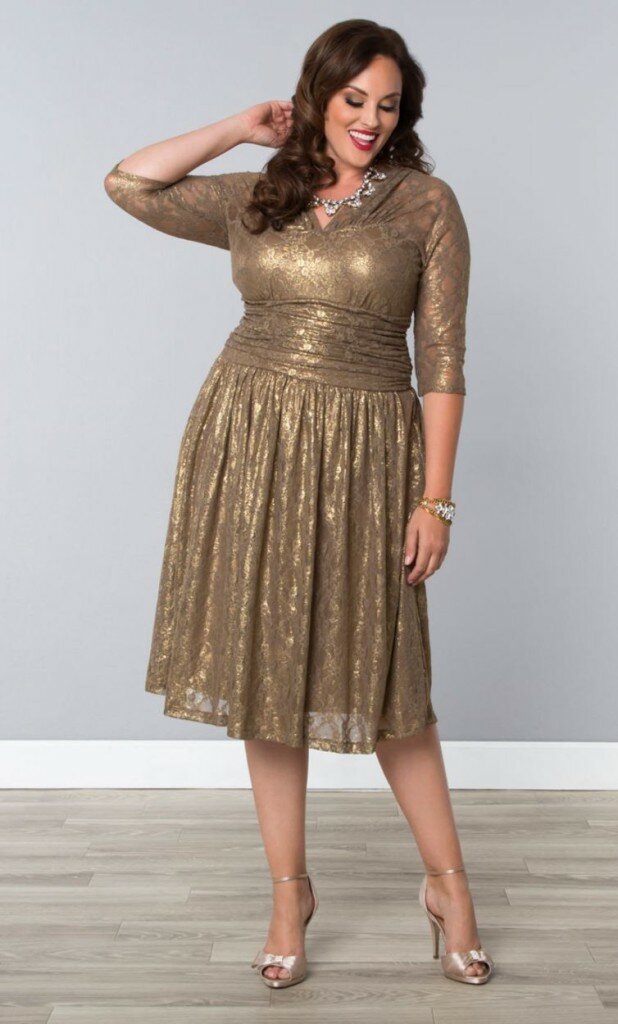 Limited Edition Metallic Maven Lace Dress
Shimmer and shine in Kiyonna's Limited Edition Metallic Maven Lace Dress, which is designed in a gorgeous metallic lace. Envelop your curves in gold dust and let this A-line stunner flatter every inch. Available in sizes 0X to 5X.
Grand Gatsby Gown
Feel like a glamorous debutante from the roaring 20's in our Grand Gatsby Gown, exclusively available in plus sizes. In this gown, you're bound to make a dazzling entrance at your next formal or evening event! Adorned with two different types of sequins throughout, you'll love the structure and shine of this elegant design. Available in Onyx (pictured) and Rose Gold, in sizes 0X to 5X.
Scalloped Boudoir Lace Dress
Expect to turn heads in this little number! This sexy and stylish special occasion dress is perfect for cocktail parties, weddings, or any formal or evening event. Our exquisite lace frock is infused with stretch for a figure flattering fit and you'll love the classic curvy silhouette and midi length. Feminine 3/4 length scalloped sleeves and a v-neckline finish up this elegant style and add subtle sophistication. Available in sizes 0X to 5X.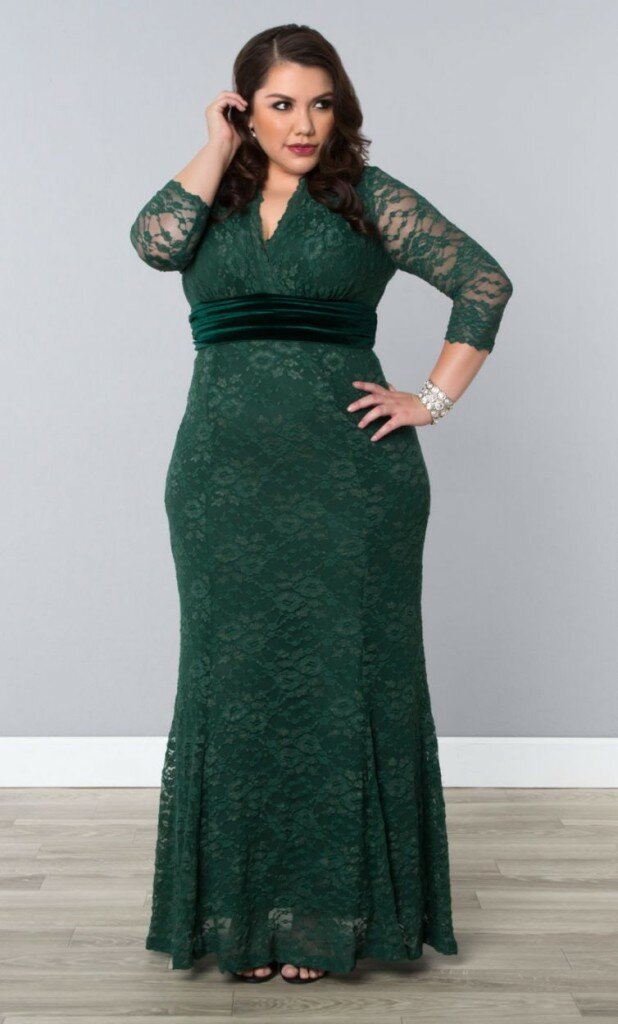 Luxurious Lace Gown
This easy to wear evening dress was designed to flatter and slim with all-over stretch and a ruched velvet waistband. We promise you'll feel glamorous and comfortable with this pull on gown for your formal affair. Available in sizes 0X to 5X.
Skirts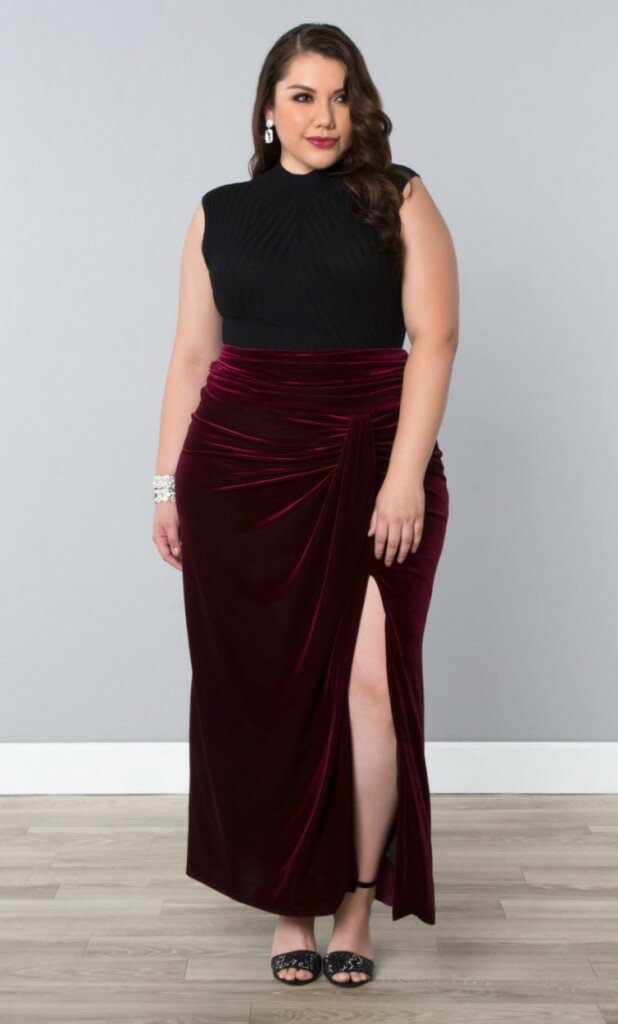 Velvet Opulence Maxi Skirt
Kiyonna's Velvet Opulence Maxi Skirt has all the elegant style you need in one simple separate. Designed as a slip on full length skirt, the gathering at the hips offer a unique off centered slit to create a faux wrap look. Uber flattering for the full figured woman, this easy-to-wear bottom with flatter and keep you comfortable at any occasion. Available in Burgundy (pictured) and Olive, in sizes 0X to 5X.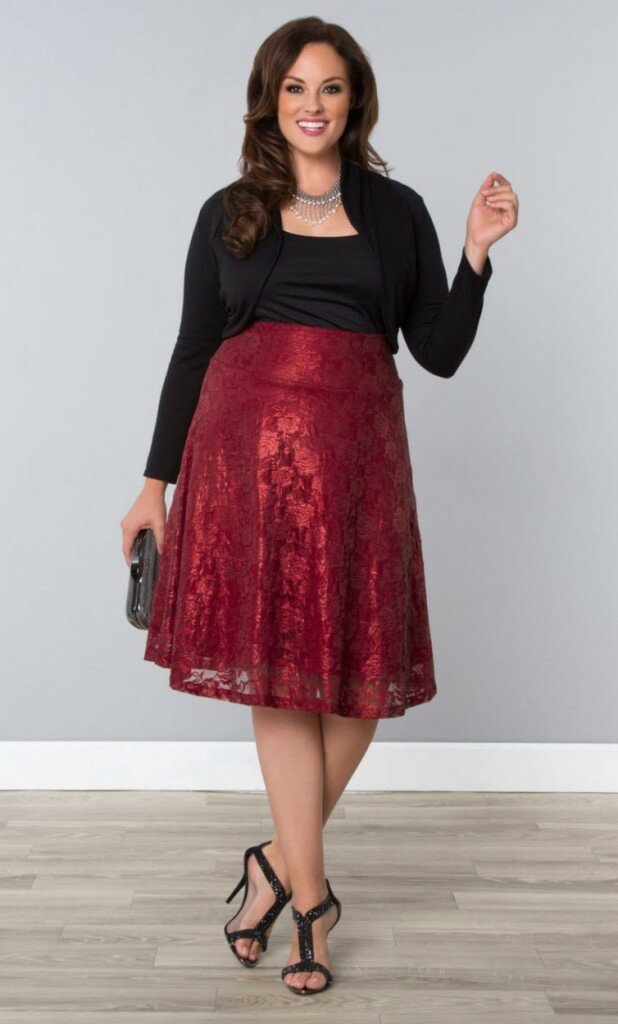 Limited Edition Shimmer Circle Skirt
Flaunt your curves in Kiyonna's Limited Edition Shimmer Circle Skirt. A classic A-line midi design flatters in a metallic lace and comfortable lining. Prepare for a swinging night out in this stunning style! Available in Red (pictured) and Silver, sizes 0X to 4X.
Tops & Coats
Limited Edition Twinkle Ponte Peplum Top
Add just the right amount of shimmer with Kiyonna's Limited Edition Twinkle Ponte Peplum Top. Princess seams along the bodice adds a contoured look, while the classic sweetheart neckline highlights your décolletage. Flatter your silhouette in this curve-creating peplum design and metallic top. Available in Marigold (pictured) and Teal, in sizes 0X to 5X.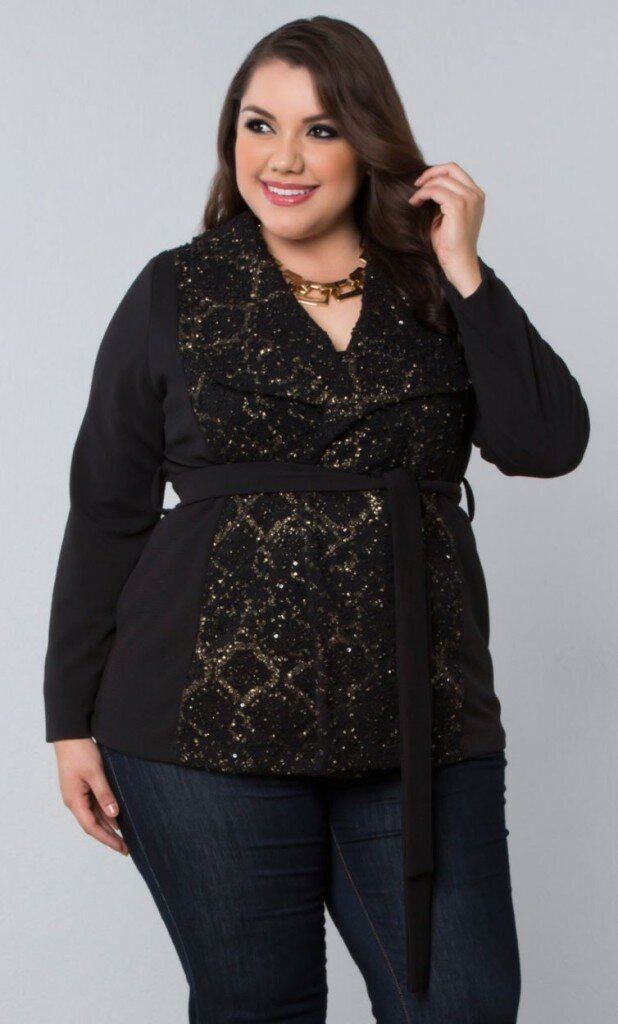 Boucle Wrap Coat
Add a little shimmer to your outerwear collection with the Boucle Wrap Coat. A lightweight style makes the perfect layering piece; while the boucle contrast panels and shawl collar add a little class. Fully lined with detachable tie and side seam pockets make for even a greater design! Available in sizes 0X to 5X.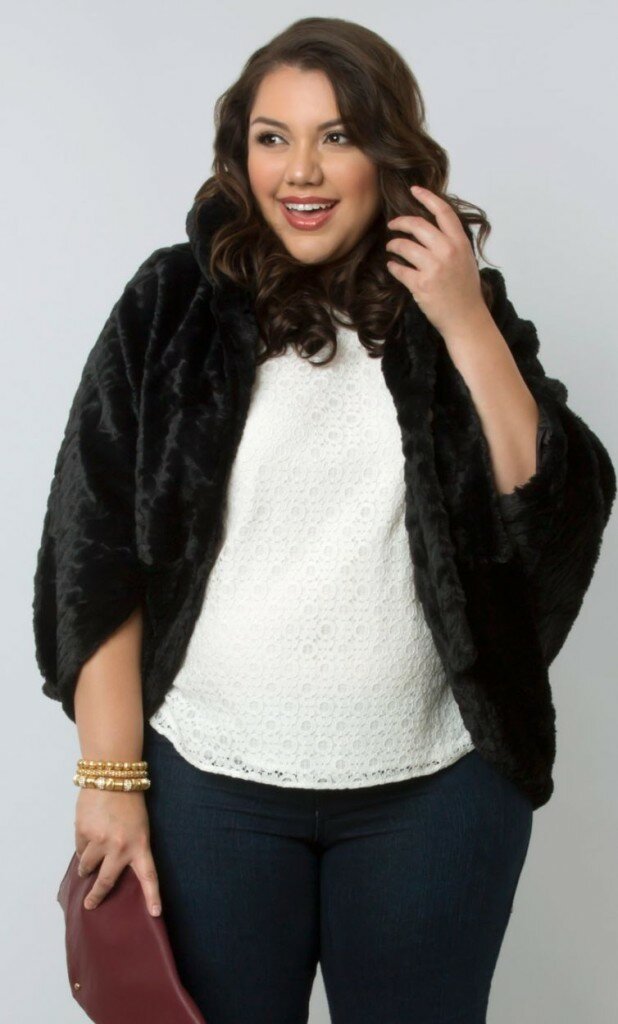 Faux Fur Luxe Coat
Cozy up in Kiyonna's Faux Fur Luxe Coat. This cape-like cocoon coat features 3/4 sleeves, zipper pockets, a plush collar and luxuriously thick faux fur. You'll never want to take it off! Available in Black (pictured) and Ivory, in sizes 0X to 5X.