Spring is now with us, so if you are lucky, you live in a part of the world where the weather is already getting warmer, and the sun is showing it's face more often these days. I definitely cannot complain. Although the past few days were horribly windy and gray, today has been a beautiful sunny Spring day. Just the way it should be!
This weather always reminds me that Summer is approaching, and that I need to check in on my Spring/Summer dresses to see if any need updating, or replacing. The warmer seasons for me are the perfect time for wearing dresses. They are comfortable, look good, are versatile and most of all they keep you feeling cool and fresh. I like wearing dresses both during the day and in the evening really, depend on the mood and the occasion.
If you think you lack dresses for the warmer months, of feel like you need ot treat yourself to a new dress (you deserve it after all!), definitelt take a look at the collection of plus size dresses found at Avenue. Their dress shop includes a very nice collection of Spring and Summer dresses, which are perfect for both day-time, and night-time. Besides you can also get $15 off every dress if you shop at Avenue using this link, until 30th August, 2008.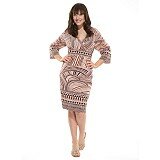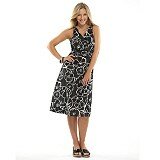 Two particular dresses that cought by eye are Mara's Flowers Sundress and Samantha Wavy Stripe Dress. As seen in Glamour Magazine, Mara's Flowers Sundress is a lightweight dress featuring bold flower print, making is a definite winner for Summer style. It is sleeveless with a smocked empire waist and surplice neckline. Then the Samantha Wavy Stripe dress is a very fashionable and flattering silky graphic printed dress which is a reliable option for both day or night. It comes with 3/4 length sleeces, a crossover neckline and empire waist with slight ruching at bustline.
If you like any of these dresses, or want to have a look at the other gorgeous styles available at Avenue, visit the online store today.