Spicing up Valentine's Day
By
Sarah
on December 31, 2009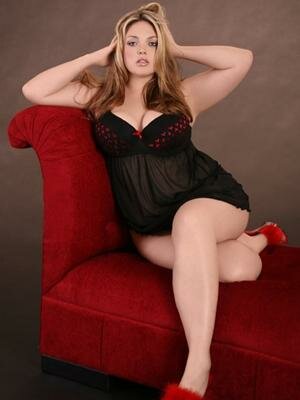 Sexy plus size lingerie, tips and ideas to help you spice up this Valentine's Day.
The day for lovers; the holiday of love; Valentine's Day is just around the corner and many of use are trying to figure out how to make this year's special day on to remember. Roses and chocolates are sweet and definitely needed, though this year try and take that extra step, make that extra effort, or maybe little investment which will spice things up and make one day and night last in your memories for a long time.
What do I have in mind you say? Well all full figured women have assets which we should use to our own advantage to stand out and make every day and moment special; these assets ladies are our curves. Cherish your curves! What better way to accentuate and make the most of these curves, other than coupling them up with some lingerie? You're getting the idea now I'm sure; picture some roses and chocolates that your partner should be giving you, some soulful music, a silky bed with your partner on, dimmed lights and sexy lingerie hugging your curves. Don't you think this scene has the makings of a memorable Valentine's Day? I sure think so!
You might think… Ok sounds nice and all but I have nothing sexy hugging my womanly curves Maya. Or maybe some of you might say… I'm too big to be wearing any lingerie. Well ladies, no one is too big to be sexy. Embrace your shape and love it! Also, nowadays the multitude of retailers which provide lingerie to full figured women express the fact that plus size ladies are sexy, and that they deserve an extensive choice of intimates at their disposal.
So what should you choose to spice things up on this special day? Well the choice is entirely up to you as there are vast fun and sexy styles which you can mix and match to create a lingerie look especially to suit you and your character.
One could go for something soft and fun like a babydoll with fake fur trimmings. As well as looking gorgeous, such an item feels soft and nice against your skin. Others may prefer the silky smooth look and feel. If you have silk sheets, such a look I think would go great. Try to choose colors which contract your sheet though in order to stand out and sort of make a statement.
You cannot go wrong obviously with sticking to the classics; choosing something in lace, in white or red. Imagine a lace chemise couple with a matching robe… will definitely make a lasting impression. Then one could to for the extremely playful and fun looks by getting yourself, and possibly also your partner, a costume. What about a sexy nurse's outfit… or maybe a dominatrix look in leather? Definitely not for the faint hearted.
So ladies you have ample choice to spice things up this Valentine's Day. Make sure you choose the styles and items that best suit you and those that you feel most comfortable in. Remember that your curves are a great asset which you should love, cherish and which should make you feel sexy, at the right times of course. Embrace your curves. Embrace the curvaceous woman you are. That is the making of a memorable Valentine's Day!
Related Tags:
curvy dominatrix