The following is a guest post by Sara Johnson.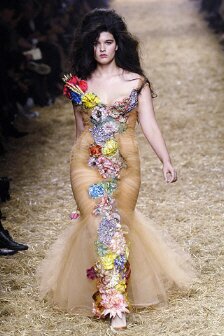 As the shift in the "ideal" feminine body shifts from waif-like to voluptuous, leaders in the Plus Size modeling industry are rapidly become style and beauty icons. Powerful feminine curves, glowing skin and luscious hair may seem a far-fetched beauty goal for most, but ALL women, of all shapes and sizes can look plus Goddess fantastic by following just a few simple tips.
First:
Find the right undergarments for your body. A well-fitting bra and Spanx are a girls best friends, they'll slim, shape and enhance your curves. A properly fitting bra allows for better posture and supports your bust effectively, creating a sexy curvy shape. Spanx are a nylon-like support garments for the thighs and tummy, comfortable and utterly magical in their smoothing ability!
Second:
Don't deny your true size. I know it would feel better to see a lower number size on your jeans, but trust me, when it comes to the fit of your clothing, your look will be made, or broken on the basis of fit. If you are bulging out of your pants at the top (the dreaded muffin-top) its going to kill the sexiness of any outfit. On the flip side, oversized clothing is just as unflattering as sizes that are too small; you'll simply look larger than you are. Plus size women look best in tailored, slightly fitted styles created to enhance and flatter curves.
Third:
Play up your favorite features. If you have sexy legs, flaunt them in a knee-length pencil skirt or city shorts with a matching jacket. If you have a tiny waist or great cleavage, choose fitted blazers or wrap v-neck sweaters to show what you love about yourself. Consider the atmosphere when choosing how much of your favorite feature to show-off, your legs may be fabulous, but there's only so much of them that's appropriate to be showcased at work.
Fourth:
Great, polished hair is a must. Whether you have wavy, curly, or straight hair, always make sure its styled, healthy and shiny. Misting with a curl enhancer, or smoothing a shine enhancer throughout helps keep most styles looking sleek, and is easy to do before running out the door. Don't deny your texture, fighting with styling tools daily take a tole on the condition and look of your hair.
Fifth:
Make-up should highlight the best parts of your face, your amazing eyes, luscious lips or gorgeous cheekbones. A good tip if you feel you have a double chin, is to swipe bronzer underneath the chin and onto the neck to make that area recede back and appear slimmer. Bronzer also can create, or enhance cheekbones and contour the cheeks. Keep your look simple and fresh, sticking to the principal of enhancing your favorite features.
Following a simple set of styling tips, created to enhance your authentic self allows all women, regardless of shape to look fabulous!
Who is Sara Johnson?
Sara is the co-owner and product buyer at http://www.velvetsiren.com – A posh plus size clothing boutique for curvy girls. She currently works as a fashion consultant and personal shopper for curvy women worldwide. Come see what everyone is talking about!
Related posts:
Get a FREE Copy of My Online Plus Size Shopping Manual
Subscribe to the Loving My Curves newsletter and get a bonus copy of my ebook "Online Plus Size Shopping Manual - How To Find Stylish Clothes in YOUR Size Quickly and Easily"! Sign up below...

* I hate spam as much as you do! Your information will not be shared with any third party.