Archive for 2007
By Sarah On December 14, 2007
No Comments
Deck your closet with fashionable curvy clothing from SWAK Designs this season. There has been no better time to do so really with the great savings SWAK Designs are currently offering to increase our Holiday cheer!

Get $5 off your order of $50 or more. Use coupon code HOLIDAY5
Get $15 off your order of $100 or more. Use coupon code HOLIDAY15
Get $25 off your order of $200 or more. Use coupon code HOLIDAY25
So take note of those coupon codes, and make use of them when shopping at SWAK Designs! Also, do not forget that you can also get free shipping if you orders amounts to $99 or more, and no coupon code is required for this to apply to your order. Neat indeed!
To keep up to date with the latest posts subscribe to our RSS feed. You can also receive updated via email, subscribe for free here!. Thanks for visiting!
By Sarah On December 13, 2007
No Comments
The November/December issue of the size positive Just As Beautiful magazine has just been released. If you are not yet subscribed to this online magazine, sign up today at http://www.justasbeautiful.co.uk to start receiving your free copy.
This month's issue is jam packed with excellent material including:
News about British television's hottest newcomer, Ella Smith!
News about the return of Caroline Quentin and how she sees her character.
Discover how to look beautiful and glamorous this festive season!
Read an exclusive interview with the world's most famous plus-size model, Velvet.
Useful beauty tips.
Finding out how best to deal with flight travel as a BBW.
By Sarah On December 12, 2007
No Comments
Torrid are taking this holiday season very seriously, by continuing to roll out excellent money saving promotions.
Once again all the cruve flattering items within their clearance section are available at 50% off! This is truly a great chance to add some stylish plus size clothing to your wardrobe, at dirt cheap prices. In fact I myself added two brand new curvy dresses to my wardrobe the last time Torrid ran their famous 50% off clearance section.
This sale runs through this Sunday, 16th December, so do hurry and see what you like to buy, as I'm sure stocks will run out on the most popular items very soon.
Besides, Torris are also offering free ground shipping on orders over $100 until tomorrow 13th, December. So if you manage to get your order in at Torrid by tomorrow, you're in for some really good savings. Besides taking advantage of the excellent prices with the 50% off clearance sale, you also get your ordered delivered free if it adds up to $100 or over. Sounds
By Sarah On December 12, 2007
No Comments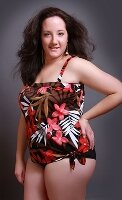 Cruise season for 2008 is heating up, especially with the new plus size swimwear arrivals at SwimsuitsForAll.com. Brand new, very stylish swimsuits arriving daily this week at SwimsuitsForAll.com, so if you are looking to update your swimwear, go ahead and visit them today to get the first pick.
I've looked around and they have gotten quite an impressive amount of new items, my personal favorites, or should I say items on my wish list would be the Barbados Two Piece Blouson swimsuit by Penbrooke, as it look very comfy, figure flattering and I absolutely love the colors. Then there's also Giraffe Two Piece Halter tankini by Cruz, as this one looks wild and daring!
What's your favorite?

By Sarah On December 11, 2007
No Comments
Torrid has just added a number of brand new and exciting plus size dresses to their collection, which are made for the holiday season. Their new additions are stylish, curve flattering, and most of all incredibly fun outfits that will definitely make you stand out in the crowd, for all the good reasons.
There are a few select favorites among these new additions, which are:
Black Jersey Studded Halter Dress
Red Strapless Rhinestone Buckle Dress
Black Jeweled Trapeze Dress
Also, Torrid is offering free ground shipping on orders of $100 or more, now through 13th November. To redeem this offer please enter coupon code WINTER during checkout.
By Sarah On December 11, 2007
No Comments
The following is a guest post by Sara Johnson.
2007/2008 styling for plus size tops follows the lead of the winter season's stars; a celebration of curves, enhanced with vibrant colors, touches of sparkle and sumptuous fabrics. Gone are the over-sized tees and knits of old, replaced by kimono tops, embellished empire waisted designs and sexy knits crafted carefully to enhance feminine curves. Au currant runway inspired designs are finally being produced in a realistic range of sizes and are receiving a gracious welcome from the fashion loving plus size community.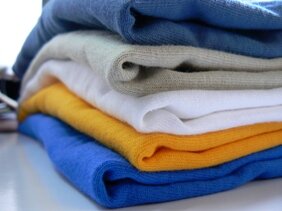 The kimono style top, with wider sleeves, an a-line hem, v-neck and empire waist tie back is the natural choice for enhancing the curvy frame. Wide sleeves, in short, or three-quarter length make the arms appear thinner and create an upside down triangle shape; wider at the shoulder, narrower at the waist. The empire tie back waist highlights the smallest part of most women's torso, the area approximately 5 inches below the base of the bust. Not the true waist, which often carries extra padding. The slight a-line hem of the kimono softly falls over tummy to the hips, never clinging. When fitted correctly, the kimono should flow softly over the bust, cinching at the empire waist and flowing softly to the hem, creating a beautiful hour-glass shape. Try a traditional silk Asian motif, or vibrant mod pattern for season current style.
The embellished, empire waisted design flatters for many of the same reasons the kimono does; the littlest part of the torso, the empire waist is highlighted and the top flows softly into an a-line hem, elongating the body and flattering the tummy and hips. Jeweled medallion detailing, beading and Grecian goddess inspired embellishments at the empire waist are gorgeous design trends finally available in curve friendly sizes. Such bold embellishments appear to be made for the plus-size frame; statement medallions and beading are proportionately correct for the curvy frame. Look for a narrow v-neck to elongate the neck and flatter the bust, a wide v-neck may show off ample decollete but in turn makes the torso appear wider and chose fabric that flows softly over the body in a solid color for a flattering, statement making look!
Sumptuous knits in sexy shapes have replaced over sized designs as the article of choice for curvy women. Quality fabrics in beautiful shapes are wonderful, comfy alternatives to the basic tee. Chose a thick fabric with plenty of stretch to best enhance your curves, in your favorite shape of choice. Empire waist designs, with a tie back are always flattering, narrow v-necks and wrap designs make the most of a curvy frame as well. Play with vibrant color; these basics are the perfect choices for trying out seasonal color trends. Avoid thin fabrics in overly clingy shapes; a good knit should always drape the body flatteringly.
With each passing year, fashion current plus size options become increasingly mainstream much to the delight of the curvy community. Winter/Spring, 2007/2008 designers follow the trend of embracing the true feminine form, crafting designs that enhance and flatter all shapes and sizes. With a plethora of style options, self-expression via fashion is finally feasible regardless of size!
Who is Sara Johnson?
Sara Johnson is the co-owner and product buyer at Velvetsiren.com – A posh plus size clothing boutique for curvy girls. She currently works as a fashion consultant for curvy women worldwide. Come see what everyone is talking about!
By Sarah On December 10, 2007
No Comments
There's only one month left to take advantage of Lane Bryant's current promotional offerings. These offers had originally been rolled out in early October, though they remain valid until early January, 2008.
I myself have found this bunch of discounts rather handy, especialy since during this time of the year I'm usually looking for something extra special to wear during the Holiday season… plus I'm always gift hunting these days, so if I can get my hands on some gifts, at a discount, it's obviously even better!
So take note of all the nitty gritty below, so you can look good this season, whilst saving money:

20% off any order – Enter promotion code 000209168 at checkout.
25% off orders of $75 or more – Enter promotion code 000259156 at checkout.
Save $25 on orders of $75 – Enter promotion code 050009183 at checkout.
Save $50 on orders of $150 – Enter promotion code 050009183 at checkout.
Save $75 on orders of $225 – Enter promotion code 050009183 at checkout.
Free shipping on any order of $75 or more – Enter promotion code 006959142 at checkout.
20% off outerwear – Enter promotion code 000209175 at checkout.
20% off Right Fit Jeans – Enter promotion code 000209250 at checkout.
Remember, all above promotional codes are valid until January 10, 2008.
By Sarah On December 7, 2007
1 Comment
Here are my December favorites from Silhouettes collection of discounted items…
Hooded Berber Coat
A simply gorgeous and figure flattering swing style coat, featuring generous hood, turn-back cuffs and well pockets. On sale at only $119.00.
Easy Linen Dress
A super comfy and all time favorite A-line shaped dress, with button placket and pintuck detailing at the bodice. Simple and yet casually sophisticated. A steal at $59.00.

Swing Coat
A sweeping style with inverted back pleat in a beauiful Italian-made fabric. This stunning coast features raglan sleeves with turn-back cuffs.and welt pockets. A bargain at $129.00!
By Sarah On December 5, 2007
No Comments
Silhouettes have rolled out a number of excellent promotions during the month of December which will help us look good throughout the different Christmas Holiday activities, whilst also purchase a few gifts for loves ones.
Here is the nitty gritty on the promotions available, to help make our curves look stunning whilst saving a few bucks:

Take 20% off your order of $100 or more. Simply use coupon code AFF7PC11
Qualify for FREE delivery on your order of $100 or more. Use coupon code AFF7PC12
Save up yo 60% on their winter sale items. Use coupon code AFF7PC13
All the above promotions are valid through 31st December, 2007. And remember, if you still cannot decide on what gifts to purchase, give the gift of a Silhouettes Gift Card, a gift that always fits!
By Sarah On December 3, 2007
No Comments
The following is a guest post by Sara Johnson.
With the holidays rapidly approaching, many are searching for the perfect attire for seasonal parties. Making sure one is function appropriate often proves more difficult than finding a fabulous ensemble. The following definitions cover most of the party attire requirements seen during the holidays and guarantee you'll look fab and function appropriate in whatever you chose.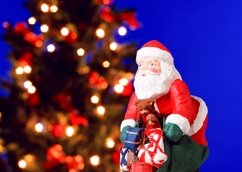 Cocktail attire is a consistent party theme throughout the holidays. It's name is derived quite aptly from the concept of people gathering prior to a formal dinner or event for cocktails. Appropriate attire consists of dresses, ranging from mid-thigh to one inch below the knee. Tailored pants suits are also appropriate, however consider avoiding a business standby, instead add accents in a vibrant color, chose a fitted cut or incorporate a suit created from a unique textile. Silk, Chatung, Brocade, Polyester, Cashmere, Rayon, Velour, Velvet and Velveteen are all appropriate cocktail fabrics and embellishments with beading and sequins are also appropriate.
Every so often, you will find yourself being asked to wear semi formal attire to such events as weddings and award ceremonies. This form of attire gets the most attention, but often because of its universal use. Many associate other forms of dress such as cocktail attire, with semi-formal. However, Semi-formal attire is much more formal than cocktail attire. Pants suits may be worn if refined in construction and dresses ranging from an inch above the knee to two inches above the ankle are appropriate. Taffeta, Chiffon, Silk, Satin, Sateen, Gossamer, Brocade, Rayon, Velour, Velvet, Velveteen are all appropriate semi-formal fabric choices.
Occasionally business formal dress requirements are seen, often in work related or political functions. Business formal is the same as semi formal, however women should chose more tailored dresses or pants suits. Slinky, sexy or revealing attire is generally best suited for a NON-business formal affair.
Black tie, or formal attire requires cocktail, long dresses or dressy evening separates. Pants suits or dress suits are rarely appropriate for formal wear. Dresses rage from knee length to ankle and may vary from a straight sheath to a full skirt and fitted bodice. Sequin and beaded embellishment is appropriate and the fabrics Taffeta, Chiffon, Silk, Satin, Sateen, Gossamer, Brocade, Rayon, Velour, Velvet, Velveteen are all considered the textile norm. Colors vary seasonally, with black remaining a consistent standby favorite.
Following the above guide to the holiday season party circuit is sure to assist you in looking fabulous, and function appropriate. If, or when in doubt, the stylist services at Velvet Siren are happy to provide attire suggestions. Happy Holidays and enjoy!
Who is Sara Johnson?
Sara is the co-owner and product buyer at http://www.velvetsiren.com – A posh plus size clothing boutique for curvy girls. She currently works as a fashion consultant and personal shopper for curvy women worldwide. Come see what everyone is talking about!