Outfit Inspiration: Floral Fun by Yours Clothing
By
Sarah
on January 30, 2014
Today's outfit inspiration is brought to you by Yours Clothing. It feature a feminine and floral three quarter sleeved dress, dressed up with various accessories to make is a great look for a multitude of occassions. You can wear this outfit to work, out to lunch with friends, or even on a date in the evening! It's truly versatile.
The main item making up this look is of course the gorgeous floral dress: this is a beige and black floral print skater dress which includes a patent black waist belt with brass pin buckle. It features a scoop neckline and 3/4 length sleeves.
It's accessorized using a black glass bead layered necklace with silver clasp fastening, a gunmetal filigree stretch ring with silver crystals and a black zip detail large slouchy shoulder bag.
The outfit it finished off with a pair of black plain patent platform court shoe with high heel.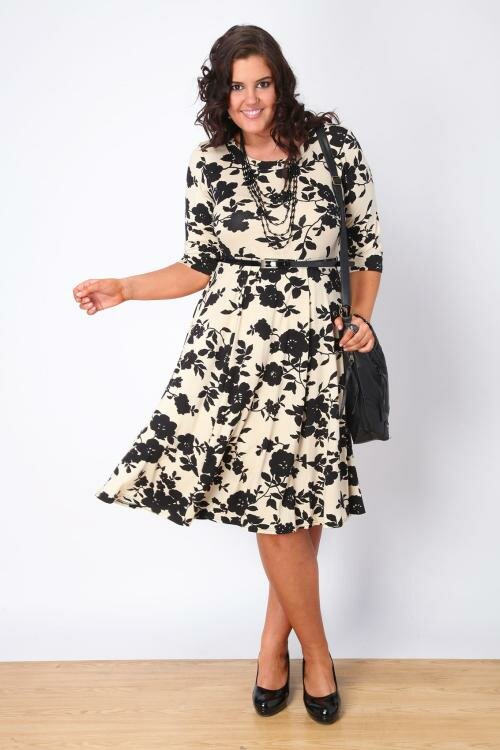 Quick recap. To re-create this outfit you will need:
Black And Beige Floral Print Skater Dress With Patent Belt
Black Patent Platform Court In EEE Fit
Black Zip Detail Large Slouchy Shoulder Bag
Black Glass Facet Bead Layered Necklace
Gunmetal Filigree Stretch Ring
Suggested: Black seamless light control brief
Suggested: Black moulded t-shirt bra
Related Tags:
kiyonna 3/4 Sleeved Scalloped Boudoir Lace Dress in "Black