Plus Size Models Needed for Fashion Showcase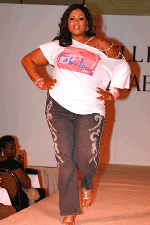 A great opportunity is on the way for budding plus size models, and seasoned plus size models alike. DeVoe Signature Events is looking for 10 plus size runway models (sizes 14 to 20) to be in the fashion showcase at the Full Figured & Fabulous competition in Charlotte, NC on 31st March, 2007.
Participants will not be participating as a contestant, but will be modeling in the fashion show part of the competition. Ideally, anyone interested should live in the Charlotte area or should be able to travel on their own to the show. Travel expenses will not be reimbursed.
Model Call Details
There is no fee to audition. There will be one mandatory rehearsal for this show that's it. The model call will be held on 10th February, 2007 at 3:00PM at The Blake Hotel, 555 South McDowell Street, Charlotte, NC.
This event on March 31st will be a great networking opportunity for all aspiring plus models to meet other plus models, designers and other movers and shakers in the plus size fashion industry!
For more information please visit http://www.dseventsinc.com/fabulous.html.
Labels: plus size events, plus size modelling