Archive for March, 2011
The black and white color combination in catwalks and outfits we choose to wear is a very popular one. Although these are basic colors, it does not mean this combination has to be a boring one. Wearing a combination of black and white can be an elegant, stylish and definitely chic choice… as these 4 plus size dresses from Avenue show. These are flattering dresses which take on this color combination in 4 different twists, with floral prints, wrap silhouettes and more… check them out below…

Floral Panel Belted Sheath Dress
This is a sleek floral dress with figure flattering panels and a waist cinching stretch belt, which is removable, so you can choose not to wear it. A perfect choice if you want to wear some prints, but not looking for an all-over print dress. It runs up to size 32.

Belted Floral Sheath Dress
But, if on the other hand you are comfortable with wearing prints all over your outfit, check out this lovely floral printed black and white sheath dress, which comes with a removable stretch belt to help you define your waistline. This dress is carried up to size 26.

Faux Wrap Scroll Dress
A wrap silhouette is always a great and flattering choice. A faux wrap is even better because you get all the benefits of wearing a wrap dress, without having to worry about tying up your dress and making sure it stays in place. This particular style features a bold black and white pattern and crossover pleated front. Sizes run up to 32.

Tulip Border Dress
Finally, check out this unique tulip themed border print stretch dress. It features a banded empire waist, which like the wrap silhouette, is always a flattering choice. This dress is available up to size 32.
So there you have it… 4 different plus size dresses from Avenue in the black and white color combination. Which one is your favorite?
Even though the fashion world is ever-changing, there are some basic clothing items that are essential for any wardrobe. Many people make the mistake of purchasing all colorful and intricate items while overlooking the fact that a basic piece can be versatile and extraordinarily stylish when coupled with the right accessories.
1. Jeans
You probably have one or more pairs of jeans already, but be sure you have a pair that looks perfect for your figure. Research the latest trends and find the style that works for you.
2. Black Dress
The color black has so many advantages in the fashion world. Not only will a simple black dress go with most of your accessories, shoes and handbags, but it's also slimming, sizzling and stylish.
3. White Dress Shirt
A simple white shirt will pair will with most any other piece in your wardrobe. Be sure the style fits your look and choose a dainty pattern or cut that accentuates your figure.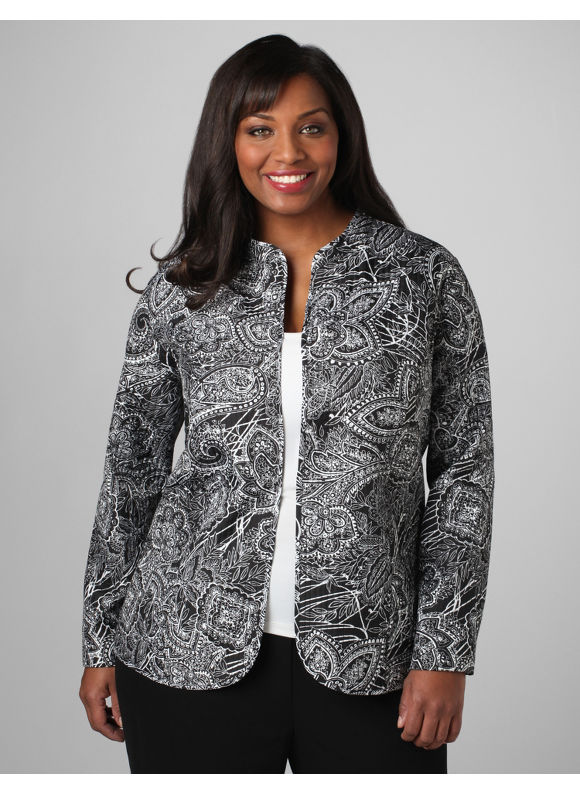 4. Jacket
A solid-colored jacket can be a blessing if you're attending an event that could vary in temperature. Jackets also tend to create a more professional look. Choose a style that is fitted and feminine.
5. Simple Skirt
Simple skirts can be worn with just about any top you own. A basic color and cut can add to any look you're trying to achieve. Make sure to choose the appropriate length for your body style.
6. Dress Pants
For days when you just don't feel like wearing a skirt, simple dress pants can fill in nicely. Again, choose a basic color that goes with the tops in your wardrobe and avoid pleats, if possible.
7. Sweats
For a comfortable alternative, find a sweatsuit that offers fashion and flair. Gone are the days when sweatpants equated to poor fashion. You can look great in the right type of sweats.
I wrote last week about the mega sale Yours Clothing are currently running, where hundreds of items have been deeply discounted… some prices have been cute by up to 75%!
This mega sale is still going strong. Although I've noticed over the weekend some items are going fast in some sizes, there are still many, many items to choose from are great prices.
I've done some little online window shopping this morning, you know just to start off Monday morning with some retail motivation

, and chosen 6 items to showcase here…
1. Stone Flower Print Tunic

I own one of these tunics, I had bought it at a regular price a few weeks back I liked it so much! The material is lovely, and the tunic is great over leggings or jeggings… it features sparkly detail on the flower design, making it perfect for a night out. It's on sale at $16 from a previous $26, and available up to size 26.
2. Black & Grey Puff Sleeve Scarf Detail Knitted Tunic

Lovely tunic in very trendy stripes… and the scarf that comes along with this tunic is definitely a bonus! This knit tunic is on sale at just $14 from an original $34, and is available up to size 30.
3. Purple Chevron Cable V Neck Knit Tunic

These V neck knit tunic tops from Yours are truly a bargain! I bought one in red a few weeks back, and absolutely love it. The material feels cosy and soft, and the tunic is long enough to wear with leggings. Perfect for the office, a lunch date with the girls, or just running errands around in. It's available for $16 from an original $22. Sizes available up to 30.
4. Brown & Black Frill One Shoulder Chiffon Jumpsuit

Jumpsuits have been a very popular item, and they will continue being so in the Spring and Summer season. Now an asymmetrical jumpsuit definitely makes even more of a statement, and this is a great stylish piece from Yours, featuring animal print and frill detail. It is truly a steal right now at just $16, from an original $54. Currently available up to size 22.
5. Purple Zip Pocket Twill Jacket

As the warmer months draw closer, things like coats and jackets usually get discounted, so it's a perfect time to add a new jacket to your closer! This particular jacket from Yours would make a color addition, and at just $32 from an original $54, it's definitely a bargain. Available up to size 26.
6. Black & Grey Ombray Effect Asymmetric Cardi

This trendy asymmetric cardigan is part of Yours Clothing's Limited Collection, and features an ombray effect and long sleeves. Definitely a versatile item which can be paired up with various outfits. It's on sale at $32 from an original $45. Available up to size 26.
Of course many more items are available throughout this sale at Yours Clothing, including skirts, jeans, leggins, dresses and more. Definitely worth a closer look!
Have you visited Avenue recently? If you haven't you probably are not aware of two special sales they're currently running… here are the details:
1. The Big Deal Event – Items As Low As $10
The first one I wanted to point out is The Big Deal Event sale; a special section of their site where all items listed are priced either $10, $15 or $20. Nothing more expensive than that… to visit this section is very easy. Simply log on to Avenue.com and click on the big blue 'Big Deal Event' banner which is displayed towards the top of the page.
2. The Dress Sale – Up To 30% OFF
This is another great one to check out, especially at this time of the year when you might be looking for new dresses for Spring, and for any upcoming Summer vacation you have planned. The dresses in this special Dress Sale section at Avenue are all on sale, with prices discounted up to 30%.
Here are some of my very favorites pieces:
Exposed Seam Printed Dress just $34.99 from an original $64.90
Empire Waist Knit Dress on sale at $24.99 from a previous $39.90
Embellished 3-Piece Printed Pant Suit on sale at $69.99 from an original price of $199.00
Both the Big Deal Event and the Dress Sale are running for a very limited time. Exact end date has not been announced yet though I'm sure these won't last very long, the prices are so good! So do check them out today, and if you like something don't think about it too long. It might be gone before you know it.
Need some new denim? Perhaps you need to get rid of those old pair of jeans, and update them with a fresh pair for Spring? Then listen to this…
Now until 3rd April Roaman's is giving away 1 denim item absolutely free, with any 1 denim item you buy.
Here's how to get your free denim:
Place two or more denim items from their special selection in your shopping cart.
For each denim item selected, the 2nd denim item of equal or lesser value will be free (if eligible).
That's it! No coupon codes required. The discount will automatically be applied to your order.
Definitely an offer worth checking out if you're looking for jeans, denim leggings, a denim dress or even a denim jacket! Remember ladies, this offer runs until 11:59pm EDT on 3rd April, 2011.
Everybody needs some stylish inspiration every now an again! IGIGI are here to the rescue this weekend with a brand new corner: IGIGI by Yuliya Raquel's Weekend Glam Guide… and they have kicked off this series this week by talking about the ultimate fashionista's essential item: the Little Black Dress (LBD)
A versatile piece such as a classic LBD can do wonders for your wardrobe! However it can be difficult at times to reinvent fresh new ways to dress it up, or dress it down.
IGIGI's in-house stylist Ozlem has the vision, while IGIGI has the versatile plus size LBD in the Francesca Dress! So let's see what Ozlem and IGIGI have come up with to show us how we can take the Francesca Dress anywhere and everywhere.
Working Girl: Wearing Your LBD at the Office
Combine the Francesca Dress with a fitted jacket, such as the Bardot Jacket, and a belt like the IGIGI Buckle Belt in black. These two pieces will help create or define an hourglass figure. Accessorize with elegant jewelry like IGIGI's Nina Antique Silver Necklace Set, for a truly polished look. Finish off your look with a satchel.
Cocktail Hour: Wearing Your LBD to a Party
For a perfect cocktail look style the Francesca Dress with sparkles and lace, like the IGIGI Lily Lace and Turquoise Necklace Set and the Martina Lace Champagne Clutch. You're now ready for an evening of flirtatious fun and dancing till dawn!
Casual Chic: Wearing Your LBD Out and About
A trendy trench knows no season like the super gorgeous IGIGI Rainy Day Trench Coat. It's a must-have for your wardrobe and a super chic casual look for running around town. Pair it with some awesome earrings, like the Jocelyn Lapis Drop Earrings to run weekend errands and you're set to go.
So those were some tips from IGIGI on how to rock your LBD throughout the weekend, no matter where you need to be. Let's hang on until next weekend to see what more weekend curvy glam tips Ozlem and Yuliya have in store for us.
Making It Big has this week introduced the perfect plus size little black dress to their collection: the Alicia dress.
This contemporary and yet chic LBD reminds me of Audrey Hepburn's elegance: a simple silhouette, yet it's simplicity is what makes it great – it is versatile and truly elegant.
The Alicia dress features white trim a the neckline and hem, which adds flair to this classic piece. It is designed to skim the body, create the perfect curvy silhouette.
This is a versatile piece which can be perfect for a day at the office, or even an important meeting when paired up with a smart jacket. Though it can also work perfectly for a dinner date for example, when paired up with some heels, classic jewelry and a sating clutch bag.
This gorgeous dress is available from size 24W up to size 36W.
Full-figured organization Thyck Troupe™, set to host its premier fashion event at Creative Lounge Chicago, inspired by Toyota, showcasing innovative plus size designers.
Creative Lounge Chicago, Kokoro Creative and Talent Forum of Libertyville proudly present "The New Tyck: A Full-Figured Fashion Exhibition".
"The New Tyck" will debut at Creative Lounge Chicago, on Thursday 28th April, 2011 beginning at 6:30pm with a welcome reception, and a 7:15pm show time. Creative Lounge Chicago is located at 1564 N. Damen Ave, 3rd Floor Gallery, Chicago, IL 60618. For tickets and sponsorship information, call 847.582.0555 or visit newthyck.eventbrite.com.
The exhibition's theme, "The New Tyck" emphasizes originality, boldness, creativity and harmony in the world of full-figured fashion.
As presenting sponsor, Kokoro Creative is collaborating with the ThYck Troupe Organization in providing the creative lounge CHICAGO as a contemporary venue showcasing innovation in the diversity and style of full-figured fashion.
Featured designers include Coldwater Creek, Shavonne Dorsey Designs, Courbes Sera, Crescendo Apparel, J-Na Custom Designs, Just Human, Deztinni, SoundChick Accessories, Butterfly Kiss Lingerie, Chinoo Designs, Her Panache and Chocolate Sushi Couture.
"This will be a very powerful exhibition," says Tressa Thomas, Founder & Artistic Director of ThYck Troupe Organization, NFP. "Our focus is real women, from all walks of life, showcasing collections from a variety of esteemed Chicago designers. With full-figured fashion increasing in necessity and demand within the worldwide fashion community, ThYck Troupe aims to highlight the incredible talent of plus-size designers and the diverse demographic of women that support it," Tressa continues.
For more information regarding this exciting exhibition and the ThYck Troupe™ Organization, visit www.thycktroupe.com – or – call 847.582.0555.
For tickets, visit: newthyck.eventbrite.com. Tickets are limited!
About the ThYck Troupe Organization, NFP
ThYck Troupe™ is a non-profit organization founded in 2009, dedicated to the empowerment and success of full-figured women of all ages, ethnicities and socioeconomic backgrounds pursuing careers in entertainment and seeking training & development for modeling, acting, singing, directing, writing, and producing.
About Creative Lounge Chicago, inspired by Toyota™
Part of the TOYOTA Creative Global Network, the Creative Lounge Chicago evolved from the TOYOTA collaboration with the Chicago fashion world. The lounge promises to be a space that facilitates the interaction between TOYOTA engineers and public opinion leaders, personalities, creative spirits and artists brought together to foment ideas for the betterment of the society of tomorrow.
The offers Roaman's have been running running since early February are about to expire soon ladies! Here again you will find the details about these these offers and coupon codes currently valid for use at Roaman's, all of which expire in 1 week, on 2nd April, 2011.
Here are the details:
All these offers and coupons are valid until 2nd April, 2011!
Yours Clothing has today kicked off a mid-season sale. With savings of up to 75% OFF this is definitely one sale you do not want to miss out on.
A while back I wrote about Yours Clothing's lovely new Spring/Summer collection, so if you're new to Yours Clothing, check out that post to see what type of styles they offer.
Though don't linger there too long, go ahead and check out the savings available in their mid-season sale… you can find maxi dresses and jumpsuits as low as $16, tops as low as $8, sequin tuxedo jackets as low as $16… and many more savings. Yours Clothing sales are one of a kind, you really have to see it to believe it.
An end date for this sale has not yet been announced, though I am sure it will not run too long ladies, and things always tend go very, very quickly anyway, so check it out today!