Archive for February, 2011
This week buy early to save more off any Old Navy purchase! Old Navy's 3 day sale starts today and this is how (and how much!) you can save:
» Today, 28th February, get 20% OFF your order.
» Tomorrow, 1st March, enjoy 15% OFF your order.
» On Wednesday 2nd March get 10% OFF your order.
Throughout this 3 day sale you will need to use coupon code EARLYBIRD at checkout to apply the discounts to your order.
(Offer ends 2nd March at 11:59 PM ET.)
Another Oscars ceremony has just passed by. We finally know who won, who didn't and who delivered a quirky acceptance speech. But more importantly we now know what, and who, the Hollywood stars wore on the big night.
Here is a roundup up what the leading ladies wore last night at The Oscars 2011, including my favorite dresses, and others which I thought were well… a little less than perfect.
Cate Blanchett strutted her stuff last night at the Oscars in a Givenchy Couture dress, and although I saw this dress included among many 'Best Dressed' lists all over the web, it is definitely not one of my favorites. Although I think it suits her, this dress to me looks like something out of Star Trek.
Anne Hathaway wore this gorgeous Valentino scarlet gown; although this dress reminds us quite a bit of what Anna wore to the Oscars back in 2008, I think this dress is a winner. It is classic, glamorous and the color is just lovely for Anne's complexion.
A sparkling purple, cap-sleeved gown by L'Wren Scott was Amy Adams' pick for the big night; she accessorized with gorgeous jewelry that apparently cost over $1 million, and which unfortunately did not go very well with the dress! I saw Amy's entire look bashed both on TV and online this morning, and although I think she could have pulled it off better, I like the dress by itself. She over accessorized (with the wrong accessories) a dress which has enough glitter and sparkle to make a statement on its own.
I wanted to include this in my list first off because I totally love Colin Firth; I've had a crush on him ever since I saw him play Mr. Darcy, and second of all because he was the man on the night: the winner of the Best Actor award for his role in 'The King's Speech'. But it's not about what Colin wore, it's about what his beautiful wife Livia wore. She is in fact wearing a dress made from 11 recycled dresses, made by ethical designer Gary Harvey, all dresses from the era of 'The King's Speech'. Stunning and green!
Gwyneth Paltrow wore a metallic Calvin Klein Collection gown; although I am not a fan of metallic looks, Gwyneth totally rocked this dress and the whole look actually. With a jet straight hair do and minimal accessories, this is a winning look.
Halle Berry looks gorgeous in pretty much everything, although we have seen her break some major fashion rules in the past. Last night however, she looked absolutely dreamy in this tulle and diamante dusted, strapless Marchesa gown.
I thought the Atelier Versace gown Jennifer Hudson chose to wear to The Oscars last might was an extremely sexy and yet chic look. I love the color, as it truly suits Jennifer and I also thought she nailed the accessories, choosing to wear long drop earrings, bracelets and leaving her neck bare. Although overall I loved the look I thought the top part was slightly too tight and squeezed! This made, what could have been a sexy cleavage, look like something uncomfortable and way too squashed. What do you think?
I had to do a double take here because I didn't recognize Mandy Moore at first glance – the 25 year old actress is looking so mature and grown up! But that is nothing negative, I loved her glittering, nude Monique Lhuillier gown. So gorgeous! She rightly kept the accessories to a minimum because this dress is just a statement on its own, she just wore matching earrings. Such a classic and vintage look, I love it! This has so to be one of my favorites.
I was shocked when I saw Michelle Williams included in some 'Best Dressed' lists this morning around the web; I've been trying to find a reason to like this Chanel dress and this entire look, but I just cannot. Maybe it's because I love color, and this look is just to plain for me? I think this dress just doesn't do Michelle's complexion any justice, I would have loved to see her in something more bold and colorful. What is your take?
Natalie Portman looks simply stunning in this Rodarte gown; she is heavily pregnant and managed to pull off such a glamorous and chic look, AND she managed to walk in high heels! Muchos respect to you Natalie! I love the color, the cut of the gown and her accessories. Simply très, très chic!
Oprah Winfrey rocked her curves last night at The Oscars in a gorgeous Zac Posen gown; I love the sparkle and the sexy, yet chic neckline. This dress totally suited Oprah figure, who last night presented the Best Documentary Award to the filmmakers of Inside Job.
Virginia Madsen yesterday wore a dramatic, feathered, one shoulder Romona Keveza dress. Opting for an updo and classic makeup I thought Virgina looked classic and glam!
We have seen Helena Bonham Carter wear much more daring and complicated dresses in the past, though the Colleen Atwood dress she chose to wear last night at The Oscars still very much represented her personality. This dress totally screams out 'Helen Bonham Carter' and I think she deserves much respect for daring to wear whatever she wants!
This morning I heard Reese Witherspoon's look at The Oscars last night, be compared to a pint of Guinness! Buy why!? I thought her Giorgio Armani Privé gown was totally appropriate for the night, and loved her overall look. The dress is very Hollywood glam I think, and I liked the way she chose to 'accessorize' her look with a bold hair do, instead of bold accessories.
Hilary Swank was seen wearing a Gucci Premiere floor-length gown last night. I'm not sure about this dress. I like the overall shape, which I think suits Hilary's slender figure greatly, though I am not convinced about all those feathers. Do you like it?
Scarlett Johansson's look is another one I've seen included among some 'Worst Dressed' lists today, but cannot really understand why. I can accept comments on her hair do; she could have put a little bit more effort there. But then again come on! She's young, why not experiment with things?! I instantly loved her Dolce & Gabbana dress, I totally adore the shades of purple and pink. Then, once I saw the back view of the dress, I loved it even more! The open back is super sexy, don't you think?
Another dress that has been criticized and even called 'cheap' (!) is Penelope Cruz's embroidered L'wren Scott dress. I cannot understand the reason for this criticism. The woman has just given birth a little over a month ago, and she manages to pull off an Oscars red carpet dress. That alone deserves much respect! But other than that I think this is a sexy number, only someone like Penelope Cruz can pull off, and she completed the look off wonderfully with a simple straight hair do and no accessories.
I just love Helen Mirren, the lady to me is the personification of class. I compare her to the likes of Meryl Streep and Susan Sarandon who look even more beautiful as they age, and always pull off stunning, classic looks. Helen yesterday wore a gorgeous Vivienne Westwood Couture gown, paired up with stunning Cartier jewels. Just lovely.
Jacki Weaver, who was nominated for the Best Supporting Actress award for her role in Animal Kingdom, wore a heavily jeweled Collette Dinnigan dress. I've heard a lot of praise for this dress, but I don't like it that much. I think she could have pulled off a much more flattering look. The seriously jeweled top part of the dress, to me, seems completely separate from the bottom part of the dress, there is no fusion. I'm not sure I like it so much.
Nicole Kidman's Christian Dior Couture dress was another heavily criticized dress. I am torn with this one; I think Nicole can pull off pretty much everything and this dress is a very unique piece. I just don't think the tone of this dress flatters Nicole.
I saved my very favorite for last, and my ultimate favorite dress at The Oscars 2011 was Sandra Bullock's. Sandra wore a red hot Vera Wang dress which looked absolutely stunning. Sandra's whole look, with a classic updo and matching classic makeup, to me just exudes Hollywood glam. When I think of The Oscars, I think of a dress such as this one. This is Hollywood. These are The Oscars. Sandra looked simply breathtaking.
So those where my favorite, and not so favorite dresses, worn on the red carpet during The Oscars this year. Which dresses did you like, or which did you think were simply hideous?
Torrid currently have a selection of super cute and flirty plus size cardigans, which are the perfect accessory to help you dress up or dress down an outfit. Besides that, cardigans are a great layering tool, helping you keep warm when you're feeling chilly, and yet can be easily taken off if it's suddenly sunny and warmer during the day.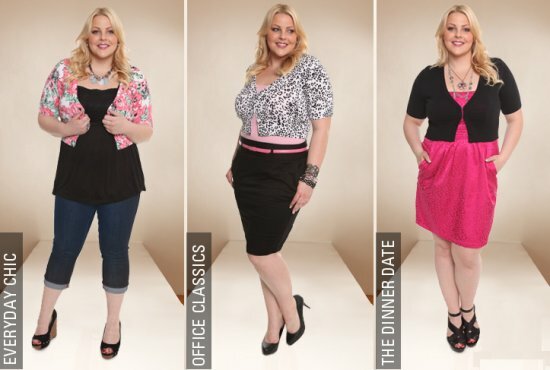 We've picked three particular plus size cardigans and built three outfits with them, one perfect for a casual day out with friends, another great for a day at the office, and a final outfit suggestions for a special date… to show you how you can pair up and use a flirty cardigan pretty much for any time of the day and any occasion!
Everyday Chic Outfit
To create this look you will need:
Floral Print Button Cardigan
Black Lace Top Rayon Cami
Source of Wisdom – Denim Virtual Stretch Navy Thread Cropped Jean
Hematite Aqua Peach Crystal and Pearl Necklace
Flora Black Wedge
Office Classics
To create this outfit perfect for work you will need:
Cheetah Button Cardigan
Pink Lace Back Ribbed Tank
Black Pieced Buttoned Pencil Skirt with Belt
Royale Black Crinkle Faux Leather Heel
Black and Hematite Rhinestone Rose Laser Wristband
Black Rhinestone Braided Twist Bracelet
The Dinner Date
For this romantic outfit you will need:
Black Covered Button Cardigan
Z. Cavaricci Couture – Pink Leopard Jacquard Tube Dress
Mandy Black Band Wedge Heel
Gold and Pink Opal Floral Necklace
Round Multi-Pearl Rhinestone Stud Earrings
Eliza Parker is this weekend running a sale so good I just had to let you all know about it.
Now until end of Monday, 28th February you can get a lovely 25% discount on everything at Eliza Parker! All you need to do is use coupon code FEB25 at checkout to qualify for the savings. Happy shopping!
Earlier this month IGIGI by Yuliya Raquel published their Spring 2011 look book to show us what gorgeous new styles they have in store for us this season. Many items have been added to their collection over the past couple of weeks so they are already available for purchase, though there are some others which still have to be made available, though I am sure most will be launched in the coming month. The IGIGI Spring 2011 look book is a burst of fresh new designs, prints, colors and styles. With Japanese inspired fashion forward new pieces, and yet chic classic [...]
The immensely popular convertible dress from Monif C. is back in stock in a selection of gorgeous new colors including coral, yellow and green – great colors to take you through the Spring and Summer seasons!
Both the short and long versions of this dress are now available and ready to ship from Monif C. online, so order yours today. These pieces get snatched up very quickly, so don't delay to avoid disappointment.
The ruched version of the convertible dress from Monif C. is also available in a selection of new colors though this dress will start shipping on March 7th. Though you can still pre-order!
More items have been added to the Anna Scholz sale section making this a perfect time to treat yourself to something extra special.
If you're not familiar with the name, Anna Scholz is a leading plus size fashion designer, famous for her curve hugging style, bright and bold colors, and fashion forward designs. I bought my first ever Anna Scholz dress last month, and I'm so happy with it this sale is still really tempting me and I'm very close to ordering another dress.
What's your favorite item in the sale?
A new season is upon us and what better way to put dark mornings, drizzly grey days and blizzards behind us than with a new wardrobe full of sheer, bright spring tops. From going out tunic tops, casual shirts to loungewear like hooded tops, there are so many ways to start the season off on a top note.
Spring clean your wardrobes and update with gorgeous looking at tunic tops. Pack away blacks and browns in favour of reds and blues. The teal scoop neck tunic from Evans is like the colour of the sky on a cloudless day. Blondes, brunettes and redheads can wear this colour as this blue tunic top is super flattering.
Bold graphic print tunics are also ways of brightening up your top collection. The Lovedrobe paint splash tunic cheers us up and the crochet neckline adds a fabulous, feminine finishing touch.
The tulip printed tunic – also from Lovedrobe – will look fresh and fragrant from day to night. Simply change your shoes to go from office to bar looking blooming lovely.
Shirts are a wardrobe essential. We all know different jeans suit different women and it's the same for shirts. The three main women's shirt styles for spring are floral shirts, checked shirts and plain white shirts. Floral shirts are brilliantly upbeat and buzzy especially bright coloured ones like the blue and red floral longline shirt from Evans. You can wear floral shirts with black trousers, jeans and denim skirts – they're so versatile.
Checked shirts are best with jeans for a cool causal daytime look. They come in all colours with the pink shirred shirt a more feminine alternative than the action-girl inspired western check shirt. Finally, white shirts suit everyone, especially the neutral belted shirt which nips in at the waist to flatter your curves. A belt is a brilliant way of adding shape to a shirt so we can feel more confident about our figures this season.
Spring is a time when we can all be more active, and there's a fantastic selection of hooded tops at Evans so we can make the most of the longer days. The stripe overhead hooded top is a comfortable way of wearing this season's nautical trend so we can all look ship shape this spring.
Hamnett and Kangol have also got some new hoodies out like the Kangol pink and grey sleeveless hoody. Perfect for sunny spring days!
If you want a top that you can wear for lots of different occasions, try one of Evans new 2-in-1 floral tops. The pink floral 2-in-1 looks fabulous with jeans while the blue floral print 2-in-1 top can be worn with harem pants or a maxi skirt for this season's boho trend. Wear these with flat shoes for day and heels for night.
Browsing these new items is guaranteed to put you in a top mood. Enjoy!
IGIGI have this week launched The Final Cut Sale where they have selected a number of their popular styles and knocked off their prices even further! With gowns available for a little over $50, and tops for just over $22, this is definitely a sale your do not want to miss out on.
Though hurry as quantities and sizes are very limited, as this sale is just running on a selection of items. To view this sale simply visit IGIGI's Final Cut section and shop away to your heart's content.
A long while back I started a new 'series in the blog called Favorite Fatshionistas – within this series I planned to hold mini interviews with some of my very favorite curvy fashionistas, who I follow daily and who truly inspire me. The main motivation to start this series was to introduce you to new plus size bloggers who know how to rock their curves in their favorite fashions, and in doing so also inspire YOU to be comfortable with your own body, whatever shape or size it is, and encourage you to experiment with different styles.
Even though this series was officially launched in July of 2010 when I interviewed Devon of Fat Nurse, I must admit that life got very much in the way and unfortunately there weren't any further updates. But I am pleased to announce that the series is back and I will be bringing you closer to my very favorite plus size bloggers in the coming weeks and months.
And we're starting off this 'Favorite Fatshionistas' series revival today with a curvy girl I'm sure a lot of your have heard of, and one who is a true inspiration for me: none other than Jessica Kane the creator of SKORCH Magazine and blogger at Fatshion Chic. Without further ado, here's a bit more about Jessica, who she is, and what she loves.
Tell us a bit about yourself: where are you from and what do you do?
I was born and raised in Southern Oregon in a town of about 1,200. I now live in the Portland OR metro area and work as the Marketing Manager of the Pollin Hotel Group – which includes three Portland airport hotels. On my off time (of which I have LITTLE!) I blog at www.fatshionchic.com, I am the owner/publisher of SKORCH www.skorchmag.com and do creative work through my firm KaneKreative.com.
How did you get into the fatshion blogging, and what is your main inspiration?
I have ALWAYS loved fashion, and my inspiration is every girl out there who needs help and has no clue. The everyday girl needing a tip or two. I love helping people and I want to inspire every woman to love her body, no matter what size, but we have to be the best versions of ourselves by taking care of our bodies and learning to embrace what God gave us!
What are your 3 most favorite plus size stores/designers, and why?
1) Torrid – if I was a store I would be a Torrid. LOL!

2) Lane Bryant – they have EVERYTHING else that Torrid doesn't, with Cacique and the perfect trousers.

3) Old Navy – they have everything ELSE!! Casual, Chic and Cheap!
Pick 3 of your most favorite OOTDs – why are they your favorite?
1) Best Plus Size LBD Ever – I was feeling all sorts of sassy in this fabulous dress – my #1 LBD find~! Plus, a great hair day too!

2) Curvy Doesn't Have to Mean Fat – this post really hit a cord with my readers and myself as well. I was SICK of the curvy = fat debate and really just wanted to keep it real. Big girls do and should work out too!

3) Dash of Sequins and a Pinch of Patent – this is really everything I am! Sequins, Patent Leather, YES PLEASE. Fun times!
5. What does being a stylish plus size lady mean to you?
It means dressing for your body and being classy.
6. Do you prefer chocolate, vanilla, or strawberry?
Strawberry! YUM
Go on, visit Jessica at Fatshion Chic today and make sure you subscribe to her blog!
Also, look out for more of interviews with my Favorite Fatshionistas coming your way soon. In the meantime though, are you a curvy fashion blogger, and would like to be featured in this series? I absolutely love discovering new plus size fashion blogs, so do get in touch with me today and let me know about your blog, for a chance to be included in the Favorite Fatshionistas series! You can easily get in touch by using this form here.