To make sure you keep up to date with our latest posts subscribe to our RSS feed. You can also receive updates via email, subscribe for free here!. Thanks for visiting!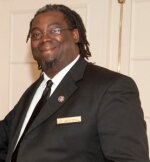 This week I had the pleasure of speaking with Glen L. Johnson, who is the founder and blogger at Full Figure Plus. Our chat was part of Curvy Conversations, as new podcast series I launched at the end of May, throughout which I will be talking to various people within the plus size fashion industry, including bloggers, store owners, designers, and much more.
In the first installment of Curvy Conversations I had the pleasure of talking to Cortney, the founder of plus size clothing store Shop Translated. This week it was a pleasure to get to speak with Glen, who I have virtually known for a number of years now. Similarly I have been following his blog Full Figure Plus for a long time now, and being one of the leading curvy blogs around, plus being the only one (that I know of) which is run my a male, I definitely wanted to include Glen in Curvy Conversations.
Listen to the podcast below, of what the video if you prefer, and listen to Glen's story. He talks a little bit about himself, how he got started with Full Figure Plus, what inspires him to continue blogging and he also reveals some upcoming plans, which are very very exciting. So make sure you listen in until the end to get to know all about Glen of Full Figure Plus.
You can download the conversation in .MP3 format here.
You can listen just to the audio right here:
You can listen to the conversation by watching the video below: