To make sure you keep up to date with our latest posts subscribe to our RSS feed. You can also receive updates via email, subscribe for free here!. Thanks for visiting!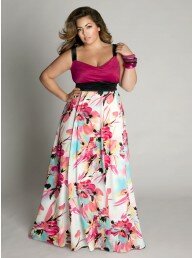 IGIGI has just unveiled a gorgeous addition to their dresses collection: the Eos Goddess Maxi Dress.
Forming part of IGIGI's Limited Collection this stunning gown will definitely help you make a lasting impression, wherever you choose to wear it.
This fully lines dress features a stretch bodice with a very flattering sweetheart neckline and an empire waist-line. The straps are nice and bra friendly and the tie-around belt ensures a perfect fit.
The gown retails at $168 and is currently available up to size 32.