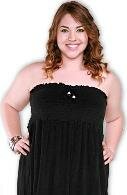 Torrid is doing honor to New York's just-passed Fashion Couture shows with a new collection of oh-so-wearable casual couture plus size dresses. I can't state this enough: you must go look at this collection. These are some of the sweetest, sexiest, funnest (is funnest a word?), most flattering and colorful summer dresses I've ever seen in a plus sized collection. I'm not exaggerating!
You know I like to go into which particular piece in a collection I'm drooling over. But I don't know if I can do that with this collection: it's just too cute for words, and I want practically every piece in it. (Though if I did that, my boyfriend would kill me.) But I don't think I'll be able to resist the Grey and White Striped Smocked Shirt Dress (so cool and casual), and the Geometric Floral Print Tank Dress… oh dear. Now I'm in trouble.
Does anybody have any white-out? I think I'll need it for next month's credit card bill.