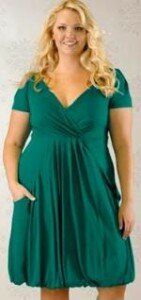 Bubble dresses. You know the ones. They look super cute on those girls with the approximate size and shape of a stick, and terrible on anybody with a pair of, you know… hips. You like to follow trends, but… why would you torture yourself by putting on a dress with a hemline that only puffs everything out and clings in all the wrong places?
I just visited IGIGI, and lo and behold… they actually make bubble dresses that flatter women with a curvier shape! Just in at the website is a selection of very trendy (by still very flattering) bubble-hemmed dresses. My favorite? The jewel-toned green jade bubble dress. So pretty. So feminine. So in my shopping cart.
Finally! Just because I'm not Miss Twiggy doesn't mean I can't follow this trend.