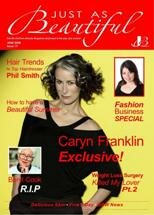 Just as Beautiful Magazine is one of the best magazines out there devoted to those of us girls with real curves… and is one of the few that's free. Each month, they offer free tips, stories, interviews and more for plus sized women everywhere – and especially in the UK.
This month, Just As Beautiful magazine has set aside some time to discuss the important issue of weight loss surgery, including its pros and cons and its biggest (and sometimes scary) consequences. I also just read a fascinating interview there with Caryn Franklin, who has just designed a range of plus sized fashion for Simply Be. She's an incredible woman.
My favourite thing about this month's issue of Just As Beautiful? The tip on how to get a free blouse from one of their sponsors. I guess that makes me a bit shallow, doesn't it? Read the magazine here.