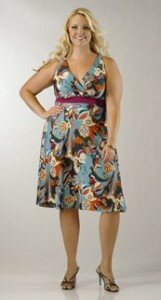 There's something so wonderfully freeing about summer. The kids are out of school, the sun is shining, and late night parties and fun beckon you out of the house. There's nothing quite like standing in a sea breeze with a floaty skirt fluttering around your calves.
Yes, I am leading this towards clothes. How could I not? The skirt I'm specifically referring to is that of the new Tropical Heat Halter Dress from IGIGI. This gorgeous dress in a fun tribal print follows all of the summer's biggest trends. Plus it's gorgeously flattering, totally feminine, and due to the marvel of Internet shopping, unmarked by my drool (if it were in a department store, it would be a different story – as is, my "I want it" drool is limited to my keyboard).
This dress is my favorite, but a ton of new summer dresses have just arrived at IGIGI. Or, if you're looking to save money but still look utterly gorgeous, their summer clearance has been deepened to up to 70% and there's still lots of great stuff left!