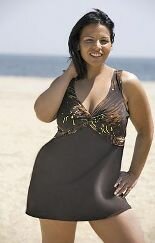 Delta Burke knows about having a plus sized body. And her swimsuits are some of the most flattering on the market… a Delta Burke is always a safe bet. At SwimsuitsForAll, they have a great combination of Delta Burke swimsuits in stock: from priced-to-steal clearance suits to brand new, just-arrived styles.
For those of you with a sexy, defined waist, you must look at the Freestyle One Piece with the cute waist detailing. Not sure if I have the waist for it myself, but I'm drooling over it anyway.
For my body (sticking to the safari/ethnic trend I mentioned the other day) I like the Safari One Piece Twist Front Swimdress. Just gorgeous.
Thanks, Delta!