Life if not a piece of cake these days. With gas prices always rising up, and pretty much everything else getting more expensive everyday, every penny really counts. So what is a plus size fashionista to do in order to look good on the beach (or by the pool), whilst not breaking the bank?
Find bargains! Though this is easier said than done often times. Though truly with some time and research you can find gorgeous plus size swimwear, the good quality kind, at really great prices. Since I know you're all very busy, I've taken the time to look through all the offerings from the leading full figured swimwear retailers, and below I present to you 12 excellent choices of swimwear, available to you at under $40.00! The lowest prices swimsuit in this list is $19.98. How great is that? You can add a brand new, figure flattering swimsuit to your wardrobe for just $19.98.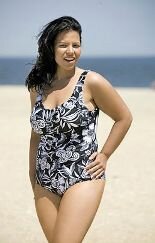 1. Malaysian Jungle One Piece Plus Size Swimsuit
Price: $19.98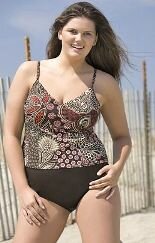 2. Malaysian Goddess Two Piece Plus Size Tankini
Price: $22.99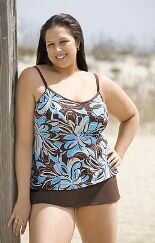 3. Sandy Beach Two Piece Plus Size Skirtini
Price: $29.00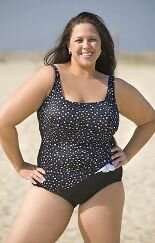 4. Dot Darling One Piece Plus Size Ruffle
Price: $29.99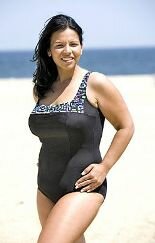 5. Pompeii One Piece Plus Size Square Neck
Price: $29.99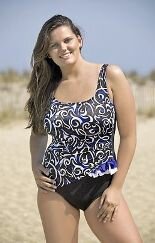 6. Swirls One Piece Plus Size Surplice
Price: $29.99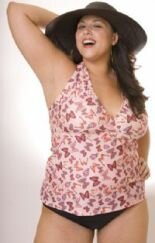 7. Butterfly Two Piece Plus Size Halter Tankini
Price: $31.99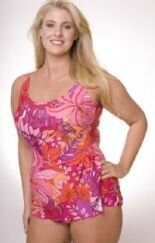 8. Gypsy Floral One Piece Plus Size Sarong
Price: $34.50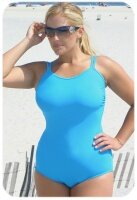 9. Always For Me Sport One Piece Tank Swim Suit
Price: $39.00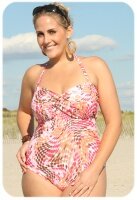 10. As seen on The Today Show: Snakeskin Twist Front Bandeau One Piece Bathing Suit
Price: $39.50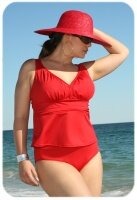 11. Always For Me Chic Hera Two Piece Tankini
Price: $39.50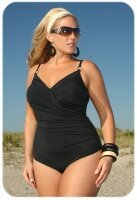 12. As seen in Glamour Magazine: One Piece Wrap Front Maillot Bathing Suit
Price: $39.50
Most of these prices are discounted, so if you're looking for a swimsuit and you like one of the above, I suggest you act quickly and grab it at this great price. I have no guarantee (nor information as yet) on how long these prices will last.