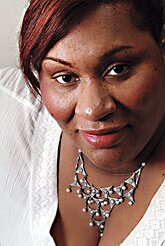 We have seen IGIGI being worn by a number of celebrities in the past, Nikki Blonsky for instance was seen wearing IGIGI fashions on more than a couple of occasions. Well, IGIGI will be expanding the list of well known people it has dresses, as it has lately provided a dress for an award-winning author.
Chamein Canton, the 2007 Reviewers Choice Award-winner for African American Romance, in fact wore a lace short dress in black/red at The Romantic Times Booklover's Convention on April 18th, 2008.
At the convention, Canton received the award for her book "Not His Type," a romance novel about a full-figured, size-16 woman who finds the love of her life in a New York Yankee, no less.
"I'm wearing IGIGI's sexy and romantic red lace dress for a sexy redhead like me and Cathy Chambers, my main character in my book. Red is for dangerous curves ahead!" said Canton.
I'll be giving you more information about Chamein Canton, and her achievements in a future post.