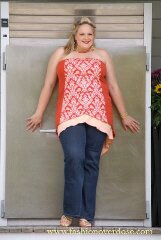 A lot of special promotions have been announced over the weekend, and I could wait until tomorrow to get this to you girls. So here I am, almost midnight, blogging away! All curvy lades wearing a 5X, listen up, you will love this.
Let Fashion Overdose help you revive your 5X look for a fraction of the original cost! Receive 50% off all their 5X sizes. Fashion Overdose are giving all you ladies out there who think it is difficult to find fresh, edgy, couture in size 5X an opportunity to add stylish items to your wardrobe during this great promotion.
Remember this is not about saving money, but about gaining a younger and fresher look for your daily life. You will also have your original Fashion Overdose piece before it is gone forever; Fashion Overdose design each style to be unique and make only a limited amount. So all items are almost one of a kind.
To take advantage of this offer, simply enter coupon code 5x upon checkout. But hurry as this offer expires this Tuesday, 6th November. So if you wear a size 5X visit Fashion Overdose right away. And if you have a friend who wears this size, let her know about this promotion as well!