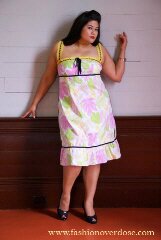 Following the 50% off sale on all their 5X sized items, Fashion Overdose are back this weekend with another grand sale.
This time have have taken 50% off the price of all their 4X sized items. So all plus size ladies wearing a size 4X, you're in luck this weekend. The sale has kicked off today, and is running until Tuesday, 13th November.
To take advantage of this offer, just to enter coupon code 4x during checkout!
Currently this sale is not available on other sizes, only items in size 4X. Also, Fashion Overdose has remarked that during their 5X sale, some customers had some concerns as to why their styles in their sizes were not available. When the sale starts, it will run on a first come first served basis. Quanitities are limited so if you see a style that you like and your size is available, do not hesitate! If you want it, go ahead and buy it as it might not be available the next time you visit Fashion Overdose. Just wanted to give you all a heads up on the situation at Fashion Overdose, to avoid any disappointments.
Also, place your order before Sunday, 11th November and reiceve a free gift along with your purchase. Cool, Iove suprises