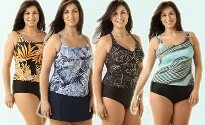 In swim wear, the Christina brand name has always been synonymous with timeless style, comfort and superior quality.
I remember I bought my first Christina swimsuit a very long time ago, I think it was around 5 years ago in fact. It is a turquoise two piece swimsuit, with great bust support and tummy control. Looking at it again now, it is still in the same exact condition as when I first bought it.
Living on an island with the sea only a few minutes away, I love the sea, and so every summer I purchase at least one new swimsuit. So over the years I have worn my fair share of swimsuits and tried quite a number of brands. It is truly on a very rare occasion that a swimsuit that I buy (and wear quite often) lasts me more than one, perhaps two seasons. My Christina swimsuit is one of those rare pieces. It has lasted for such a long time, and is yet still stylish and still fits perfectly.
If you are wondering where you can see the plus size Christine collection, head over to SwimsuitsForAll.com today as they currently carry a lot of styles from the Christina plus size swim wear range.