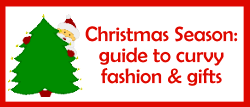 Fear not if you are finding yourself in a dilemma, not knowing where to shop or what to wear for the upcoming Holiday season! Our contributing writer, and plus size fashionista, Janna Lutz brings us a very informative article entitled Lock and Load: Holiday Must Haves.
In this article Janna goes over the latest trends in the plus size fashion scene, giving us tips and recommendations on what to wear. Here's a snippet of the article:

It is time to wave good-bye to ghost, goblins, and too much candy corn. The holiday season is fast approaching, and your closet needs to be spruced up for the coming festivities. Autumn is getting into her full swing, and she is not waiting around for you to decide if last year's twin set will make it through another round. You need new clothes. Don't try and fight the urge. You also need shoes, jewelry, accessories…the whole shebang. Nowadays, we plus size lovelies have many options of where to shop. There are also great online stores that offer top labels at not so top prices. If you want to try on your picks before purchasing, there are some amazing stores in your area that you can find flattering tops and bottoms to look your best this year.
Read the rest of the article here.