Brought to us exclusively by IGIGI, the following are the hottest trends that reign in the plus size clothing scene this summer.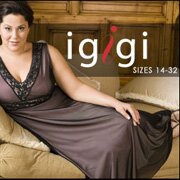 1. Nude Illusion – The designers from New York, Milan and Paris agreed that this frail and delicate look will become one of the most coveted styles to won this summer. Sheer and barely there black chiffon reveals nude colored lining.
2. Au Naturelle – Blush, taupe, and beige top all the color charts this Spring/Summer.
3. Black & White – This crips combination is forever classis, yet always modern and chich. From flowers to plaid, the look is graphical and strong.
4. Flamenco Fever – Red, making a very strong come back intro a fashion arena, creates a very powerful statement, especially when combined with black.
5. Immaculate White – From delicate laces, to craft embroideries, pure white dress is a hottest one item to own this summer. Found almost in every collection, this look is both refreshing and innocent.
6. In The Navy – Easy silhouettes inspired by the seaside atmospeher in dark navy blue with accents in white.
7. Global Fusion – Exoticism and folklore take a whismical twist, telescoping the mixed global culture. From Mexico to Ukraine, Africa to Sweden, designers are bringing multicultural influences into he everyday life.
8. La Bella Epoque – The nostalgia of the forgotten and antique evokes a feeling of romance and innocence in our modern lives. The colors are blush pastels, showcasing the design elements that are borrowed from the history pages.
9. Precious metals - This strong trend has been seen on quite a few fashion runways and may remain strong through next Fall/Winter.
10. Singing The Blues – Ranging from pale to deep the shades of blue are both sincere and wholesome.
All above trends can be found at IGIGI.