Thou Shall Not Miss Summer
By
Sarah
on December 31, 2009
Blend summer and fall/winter plus size fashions together!
The summer season will soon officially be over; warm summer nights, days at the beach and 'lighter' fashions will soon become just a longed for memory.
However, we should not let the season change and cooler weather distress us much, as both fall and winter are exciting and colorful seasons. It just takes a little versatility and imagination to put a touch of summer into the cooler months.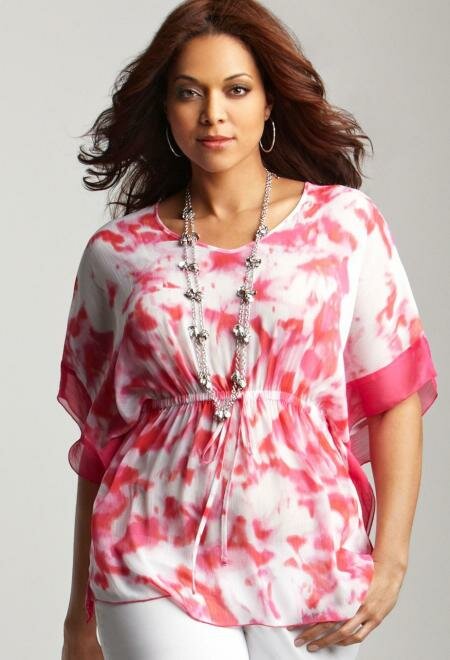 September and October especially are fun months great for shopping. In September stores start offering the best of fall and winter fashions so this becomes the perfect time to find out what's in style. New items available at the shops will make your shopping sprees much more interesting. The difference in summer and fall fashions will freshen up your wardrobe and get you ready for the months to come.
Besides, your shopping sprees will most likely turn out to be a little easier on your budget as well, since a lot of great sales are held in September! And let's not forget December and the Christmas holiday shopping season. Definitely something to look forward to!
Summer fashions and styles should not be forgotten, or buried in your closet. Get yourself used to adding a touch of summer to your fall and winter outfits. For instance:
A colorful summer blouse can easily be worn under a dark suit. Besides adding a touch of color, and completing your outfit, it will brighten up your aura and give you a summery glow.
Don't forget those summer accessories and shoes which can easily brighten up a winter's outfit!
Therefore when re-shuffling your closet to make warmer pieces of clothing more accessible, do not put away all your summer items. Instead we suggest you keep some summery pieces within easy reach, those which you could also use during fall and winter.
The cooler seasons bring with them change, yet fun and exciting things also. And, with a little imagination, you can definitely bring in some summer pizzazz into your fall and winter fashion choices!