Plus Size Clothing Made for Stars by IGIGI
By
Sarah
on December 31, 2009
Pasazz.net interviews Yuliya Zeltser, designer and founder of IGIGI.
Valletta, MALTA, 14 June, 2006 – Pasazz.net, the plus size clothing directory, this month met up with Yuliya Zeltser, the founder of the exclusive plus size clothing line, IGIGI. In an interview published today, Yuliya reveals why she is passionate about working in the plus size clothing industry. A series of interviews have recently been conducted by Pasazz.net, with prominent women involved within the plus size clothing industry, in order to help create awareness of the plus size fashion industry. The full interview is available at https://pasazz.net/yuliya.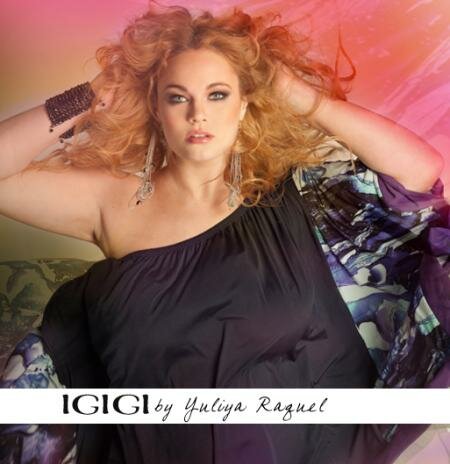 In today's interview, IGIGI's designer and founder, speaks fondly of being born and raised in Ukraine. Yuliya reveals why, although she is not a full figured woman herself, she designs clothing for curvy women; witnessing her mother finding it difficult to find clothes that which fit and appeals to her, drove Yuliya to make it both her personal and professional mission to provide full figured women with the clothing they deserved.
"I realized that no matter what size a woman wears, she wants to look feminine, stylish and very attractive. The clothes that were available on the market at that time did not do justice to women who wore them. At that moment my personal and professional mission was formed," says Yuliya.
Yuyila recounts how IGIGI was founded in 1998 and how the 'sexy' label's name was brought to life by "taking a French name Gigi and making it 'symmetrical' by placing an 'I' at the beginning of the word." Furthermore Yuyila explains how she later on "did a research online and found out that Igigi was the name of the ancient civilization's gods; and the main goddess of the group was Ishtar – an ancient Phoenician goddess of love and fertility."
Drawing inspiration from anything that moves, from architecture and from literature Yuyila has created a plus size clothing label which truly enables curvy women to feel like a star.
IGIGI is a unique plus size clothing fashion label which strives to fulfill the needs and desires of the under-represented modern voluptuous women.
The full interview may be viewed at https://pasazz.net/yuliya/.
About Pasazz.net
Pasazz.net is the women's guide to plus size clothing online. Pasazz.net is a collection of years of ongoing personal online research, aimed at providing large and lovely ladies a place where to find all the quality plus size clothing stores available on the Internet.