See How Easily You Can Tie Up a Sarong!
By
Sarah
on December 31, 2009
A plus size sarong can make a beautiful addition to your wardrobe. Sarongs can come as a wrap, a dress, and more. A sarong can make a fashionable wrap for when you need to add layers or be a little more modest in your dress by covering skin when you don't want to show it. This can be handy when you are outdoors a lot by protecting your skin from the sun's many dangers. It can make an elegant wrap that flatters you and your shape as well as acquires many compliments. Unfortunately however, most people are not sure of how to wear a sarong. There are many different ways a sarong can be worn, and you can do the same with ease!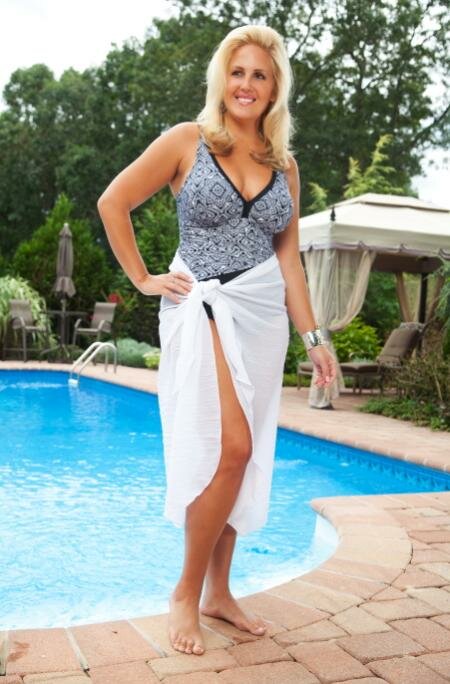 One of the most frequently asked questions when it comes to sporting a sarong is how to tie it. At first it can seem very difficult, but it is in fact very easy to do once you learn how. Now, conjure up some patience and be willing to practice so you can tie your sarong!
1. How to Tie a Sarong
The most important thing to learn when tying a sarong is that you will need to make sure the sarong will not fall off while you are going about your daily activities. That's it. Now, there are different styles of tying your sarong depending on how you plan on wearing it. A sarong can be worn as a dress, short skirt, swimsuit cover, long skirt, shawl, toga style, and more. There are so many different styles out there you are sure to find a beautiful sarong that might become your favorite accessory!
So, learning how to tie a sarong simply depends on how you will want to wear it, and you will probably want to try each style.
2. How to Tie a Dress Sarong
To wear your dress sarong, wrap it above your chest around your waist hips and chest, and tie at your shoulder, front or back. This sarong style will make an elegant dress for any occasion – or just another day! Make sure your knot at your shoulder is tight and will not come untied unless you untie it. You can let the knot hang, or tuck the ends underneath. That depends on what you would prefer. You can adjust how long your sarong dress is by how you have wrapped and tied it. You can make it shorter if you would like.
You can wear this sarong dress style alone, and leave the opening at the front or side of your legs for a nice, sexy style. You can also wear a simple dress underneath for a more modest style. If you do not want an opening to show some leg you can pin up the gap that shows your legs with a few safety pins.
3. How to Tie a Long Skirt Sarong
Wearing your sarong as a long skirt is very easy to do. You simply wrap your sarong around your waist at the level you want it to sit – at your waist, slightly below for a sexy style, or above your waist. Simple tie a good knot to the side and fluff out the knot's ends to create a beautiful knot, making sure that the proper side of the sarong is showing in the knot.
There are so many ways you can wear a sarong, and it can become the favorite part of your wardrobe because the sarong is so versatile. Every woman should have at least one sarong!
Related Tags:
how to tie a sarong dress, how to make a sarong dress, how to make a sarong