Trendy Looks For Women's Plus Size Clothing – Summer 2006
By
Sarah
on December 31, 2009
Plus size women don't have to settle anymore! Plain, dull looks found in one or two stores are something of the past. We larger women now have choices – and that choice is to wear trendy, fashionable, plus size clothing made just for us! We don't have to feel frumpy…we deserve to feel sexy this summer!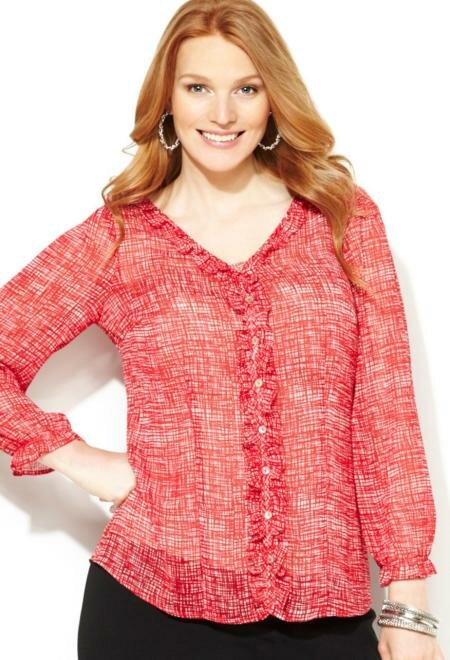 Colors and Fabrics
Plus size clothing comes from the same fabrics and follows the same color trends as clothes for women of smaller sizes. Here are some of the trends we can look for in the summer of 2006:
Seasonal Color Trends – Pale, natural, neutral colors are the trend for women this summer. Whites, creams, beiges and apricots are popular.
Summer Fabric Choices – Classic fabrics are back again! Light and lacy along with basic cotton stretch materials are what women can expect. Flowing chiffon and silks can be seen in abundance, as well. Designs with spandex offer both comfort and versatility to plus size women. There are great fabric choices this summer for both work and play.
Pattern Trends – It's all good! You can choose from garden prints and solids, geometrical shapes and ethnic designs. Stripe patterns are in style, but make sure they flatter your shape instead of fattening it. Showing support for out troops has never been trendier, as camouflage prints are great for a casual look.
Now that we know what kinds of colors and fabrics to expect, let's move on to the plus size clothing fashions we can look forward to.
Clothing Trends
With classics making a comeback in the Summer of 2006, some items which will be hits could already be found in your wardrobes! If you don't have these looks, making the investment in this plus size clothing will be well worth it and can be worn for several years.
Pant Trends – Relaxed trousers can be found in many styles. Jeans with deep cuffs are "in" for those casual get-togethers.
Top Trends – Mannish looks were on the catwalks this season. Crisp, white shirts can be worn with a wide variety of outfits. For everyday, look for an abundant selection of plus size tanks and halters.
Dress Trends – Baby-dolls and shift dresses are making a comeback! In fabulous shades and fabrics, these plus size clothing pieces can flatter your curves and show everyone how sexy you can be.
Shoe Trends – Sandals and wedge shoes are the style for the Summer of 2006. When purchased in a neutral color, they can go with almost any outfit for any occasion.
Lingerie Trends – Look for sexy, see-through fabrics with flattering cuts and styles.
Keep in mind that you should avoid those styles which hang on your frame and don't accentuate the curves you have. Don't find one shirt and buy it in 6 different colors! Vary your colors, fabrics and styles for a great mix and match plus size clothing wardrobe!