Party Chic – SWAK Designs Review
By
Sarah
on April 14, 2011
Click here for part 1 of our SWAK Designs review, where we looked at 3 casual pieces from the SWAK collection. Read on to find out a little about their excellent party wear options.
Desiree is the name of SWAK Designs' beautiful and fresh summer dress, perfect for a morning party or perhaps a night out after a lazy summer day. What I think makes this dress a special piece is its simplicity and tiny details which flatter the curvy figure. The four tiers of fabric are put together in a way that they hug your body and accentuate it in the right places. An elasticized, bow trimmed, round neckline adds a little sex appeal to an otherwise very romantic dress. Pair it up with your favourite necklace, matching shoes and handbag, and you are set. For some reason I do not wear necklaces that much so I paired this dress up with summery vibrant blue ear-rings, matching blue bangle and sparkly blue mules for a morning party. It was a hit.
Another dress, which I was lucky enough to try out, is one of my favourite out of all these pieces: the Becky dress. This stunning dress has a classic look to it, and comes in two of this season's hottest colors: black and white. The Becky dress comes in a cute floral print, with a tie back for waist defining and figure flattering excellence. For ultimate support and comfort, this dress comes with a soft molded-cup bra. I absolutely love dresses that come with an inbuilt bra; when done right they eliminate any worries of bra straps showing, as well as making you feel extra comfortable in a dress. SWAK Designs have definitely gotten the fitted bra recipe right!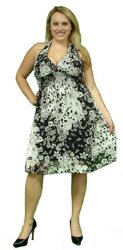 Again in black and white, the Flora halter dress is a must have for any plus size women who want to dress to impress this season. Another one of my favourites, this dress is truly fun to wear! Plus size women wearing this dress will feel feminine, girly, stylish and chic at the same time. I don't usually wear halter dresses, as I sometimes think they make my back look even wider than it is, but I was very surprised that the Flora dress didn't at all! On the other hand it made me look very curvy, whilst feeling very comfortable. This is a plus size halter dress done very right! Coming in a floral and dot print fabric, this dress makes accessorizing a breeze. Match it up with you favourite pair of high heels and earrings, and you're set to impress.
It's been a while since I've been thrilled about trying on new clothes, but the items SWAK Designs have to offer are clothes to be thrilled about! The quality in their clothing is evident, and the styles they offer will suit most tastes. The items I tried on are extremely figure flattering, and I'm sure you will be as delighted as I am if you shop at SWAK Designs.