The Lace, The Faux Suede, and My Wardrobe
By
Sarah
on December 31, 2009
by Janna Lutz
Autumn has always been my favorite season, and not just for the changing leaves and promise of turkey and dressing. For me, autumn means nerd chic corduroys and laid back boot cut jeans; layered tees and being able to wear anything polyester without sweating like I was wrapped in cellophane. Let's be honest ladies, summer is more about thigh burn and sweat rings than beach parties and relaxing with a glass of lemonade. It is for me anyway. I am still working on a way to strap a window unit to my back when I have to venture outside. It is the insane amount of extension cord I need to pull this feat off that keeps tripping me up.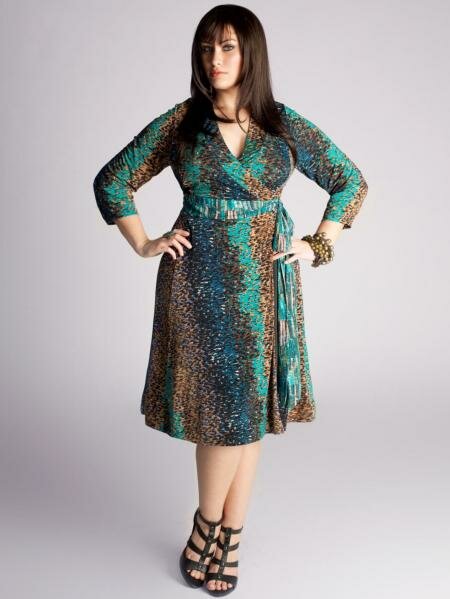 An early look at this year's fall line-up boasts many returning favorites: flowing fabrics, floral anything, lace, and all around femininity have stayed with us from last season. And of course there are the timeless staples like denim blazers and twinsets. Their appearance may alter somewhat, but the basic style we all fell in love with marches on. Sexy and flirty camisoles are making their way to the head of the class; in fabrics ranging from traditional cotton to saucy velveteen. More plus size women are daring to bare their arms and show some cleavage, whether wearing the cami alone or pairing under a shirt or jacket. Throw in a pair of gauchos and you are one hot ticket!
Geek chic is always popular, as school resumes in September. We are waving a joyous and thankful farewell to baggy and obnoxious fads as tailored pants, sweater vests, and sassy sheer blouses trumpet their entrance. Don't forget to throw in a blazer and a few screened tees. I would even dare suggest a pocket protector. Those nerds were just ahead of the fashion evolution is all.
Corduroy is one of my favorite fall fabrics, even though it sounds like you could start a brush fire just by walking across the room. Corduroy pants are as much an autumn staple as hot chocolate and pumpkin pie. And turkey. The only silver lining is all the lint and dust bunnies you may have to fight off. But it is worth it to look that good. A layered screen tee and that denim blazer, and you could even forgo the protector this time. It might clash with the dust bunnies.
Layering is no longer a stigma for the plus size figure. "The more you add, the bigger you look" is definitely considered and old wives tale, like what happens when you sit on cold pavement. You get those boot cut jeans dirty. Now put down the the Preparation H and instead get your hands on a denim bustier and tuxedo shirt. Go ahead and get another cami…you can never have too much of a good thing. True that Barry White.
About The Author
Residing in southern New Jersey, Janna Lutz has been a budding writer since she was very young. In addition to writing for Pasazz.net, Janna also showcases her unique sense of humor in a monthly column for "The Laughing Gas" online magazine .