Pasazz.net's founder gets a taste of plus size designer clothing.
Lately I was lucky enough to get to try out and feel what it's like to wear a stunning plus size designer dress. Generously provided by the wonderful people at IGIGI, this black satin gown will definitely make any full-figured woman stand out from the crowd. Read on for a full review of this beautiful dress.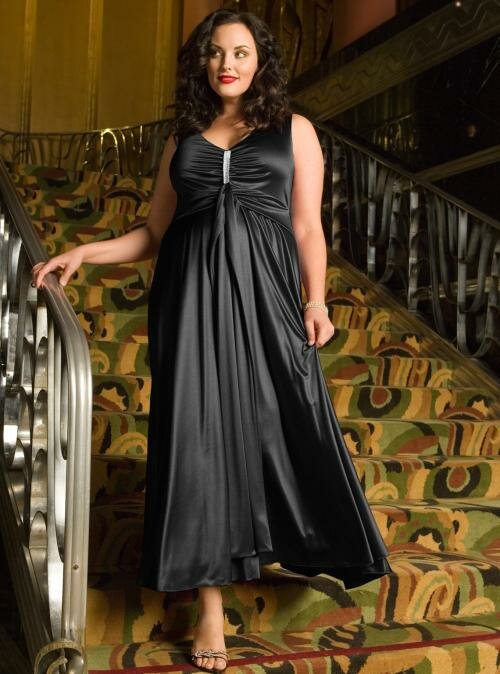 The Arrival
The greatly awaited IGIGI garment arrived at my doorstep very neatly and nicely packaged; my dress was safely and very well packed and to my surprise also included the hanger. This comes is very handy for me as I seem to be out of hangers. My first impression upon receiving the package was, what an excellent delivery service. The package arrived from the U.S. to Europe is less than a week… one word… wow!
The Dress
Even in its box my new IGIGI black satin dress looked like something out of a designer's fashion show. The fabric looked beautiful and felt smooth and silky. The dress itself felt quite weighty, which is reasonable since the quality fabric is designed to drape in order to flatter the full figure.
I couldn't wait to see how I would look wearing this stunning, Hollywood inspired satin gown. Needless to say I definitely was not disappointed once I stood in front of the mirror. I loved the bodice which hugs you where it's supposed to and given you great top-body support; and what I also really liked was how the V neckline, along with the lavish rhinestone band, accentuate the bust and neck. This dress is very bra friendly, you can wear a support bra easily without having any straps show, which I extremely convenient. This dress really does accentuate the curvy body and wearing it feels like heaven! My favourite part of this dress is the empire waistline which is pleated into a shape-defining seam, with a dangling sash, which besides giving my body definition, it made me feel like I was wearing a dress made for a princess. The dress feels beautiful and looks stunning.
Matching Up Accessories

Suggestions for accessories that might go with the black version of this dress (there are also a red, platinum, gold and lilac version) are quite endless, so I will therefore touch upon those accessories which I do no recommend, and those which are my favourite.
This dress definitely calls for some heels and sandals, though I strongly do not recommend choosing anything black. Black shoes and accessories work with some of the other colors this dress comes in, however I wouldn't suggest wearing them with the black version since you want to create some contrast. Keeping it all black will wear your look down. So do not be afraid to throw in some colors! Splash out on some colors and spice this dress up.
You could opt to stick with the classic you and opt for silver sandals and accessories. This choice is excellent since it blends in greatly with the rhinestone definition the dress has. Accessories such as earrings, rings and necklaces are also easily matched in this case.
If you really want to make an impression add some fun color link pink into the look. Opt for pink sandals with a nice kitten heel so you'll look sexy and yet your feet won't be aching by the end of the night. If the sandals have some rhinestone definition also, all the better! Try and match your jewellery with your sandals, choosing those items which have a splash of pink in them.
I'd like to stress that since this dress has the beautiful rhinestone definition at the bust, go easy on your choice of necklaces. Personally I wouldn't wear any in fact, since the rhinestone would sort of be my 'necklace'. However if your neck feels naked without a necklaces, opt for the simple one. If you're wearing a pendant, try to avoid anything heavy.
Where To Wear?
This dress definitely calls for a special occasion therefore keep this dress in store for whenever you need to make an extra impression. Believe me this dress will definitely get the job done.
If you have a nice romantic night out planned out, with a very special someone, maybe an anniversary is the occasion, then this dress would definitely spice things up!
I'd also choose this dress if going to a gala dinner or a posh wedding party at night.
Going on a cruise? If your mission is to impress the captain, then make sure you pack this stunning dress in your suitcase. You'll leave an impression on the crew and be comfortable enough to dance the night away.
The Verdict
IGIGI provided me with all round excellent service. A beautiful quality dress, matched with an efficient delivery service. What more could you ask for? I'll definitely be shopping here again!