Plus Size Clothing Online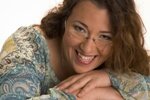 Are you looking for plus size clothing that is stylish, fashionable and sexy? Ladies, your search has ended! Pasazz.net, is the woman's guide to

plus size fashion

online. Start browsing through the various fashion categories (on the left), where you will find listed the top plus size fashion stores found online.

Whether you are looking for casual wear, formal wear, sexy lingerie or swim wear, you will definitely find the right store to cater for your needs here at Pasazz.net!
Do not forget to visit our plus size clothing blog, which is updated daily with plus size clothing offers, fashion tips and news!

FREE! The Secrets To Figure Flattering Plus Size Swimwear
with our brand new... Essential Plus Size Swimwear Guide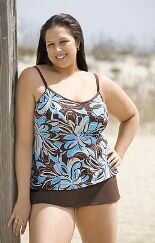 Wearing something as revealing as a swimsuit can be a very daunting thing for a plus size woman. I can definitely understand the feelings of insecurity, unease and discomfort with just the idea of wearing something which shows some skin.

These feelings definitely abound when you own a swimsuit which you are not really proud of, and which you don't even think suits you. No wonder the feelings of insecurity take over!

Knowing what swimsuit to choose for your body shape, will give you the tools you need to select a swimsuit which you know looks good on you, and which will make you want to stroll down the beach and show off your curvy body.

But where to start? I have decided reveal all the plus size swimwear secrets, and provide all this essential information in a special ebook: Essential Plus Size Swimwear Guide. And the best thing is, I am giving away this exclusive ebook to you, for FREE! Get it today to find out:

> The different swimsuit styles that exist
> What styles are perfect for flattering particular body shapes
> How to accessorize on the beach
> Much more!

So if you want to get to know the secrets to choosing the right swimsuit to suit your shape, go ahead and downlod my brand new and exclusive ebook today, the Essential Plus Size Swimwear Guide.


Latest from the Plus Size Clothing Scoop
Love your curves... subscribe today! It's free...

Are you subscribed to the only e-newsletter focusing exclusively on plus size clothing? If you aren't you are missing out on staying up to date with the latest fashion trends, curvy news and sale updates! Check out the plus size clothing newsletter Loving My Curves and if you join you will receive these great fashion freebies:

1.

"The Essentials Plus Size Swimwear Guide"

- what you need to know to choose figure flattering swimwear to suit your curves.
2.

"Swimwear 2008: Special Report"

- compiled by plus size fashion experts, this reports shows you what's hot and what's not.
3.

"Tips and Tricks For A Polished Appearance"

- quick and easy fashion tips to get you feeling confident in no time.
4.

"The Marker Method"

- sensible, step-by-step approach to organizing your closets and drawers piece by piece!

Join Loving My Curves!

Plus size celebrities

One of the UK's leading plus size model, Charlotte has graced the websites of various plus size clothing stores, including Torrid.com. A plus size model with a great personality! Read more about the Charlotte!



Toccara is no stranger to reality television. America's Next Top Model put Toccara Jones on the map; With a very positive outlook on life, Toccara dreams of being the first plus-size supermodel. Read Toccara's bio here!



Mo'nique began her career in her hometown of Baltimore, Maryland, when she took to the stage for the first time on a dare from her brother and received a standing ovation... Read more!



Dana Elaine Owens, 18 March 1970, East Orange, New Jersey, USA. Rap's first lady, Queen Latifah, broke through in the late 80s with a style that picked selectively from jazz and soul traditions. Find out more about the Queen!



Whilst busy keeping up with modelling, Chenese who is the first woman ever crowned Miss Plus America, took some time out to speak to Pasazz.net about life, work and ice-cream! Read the interview.


BBW events
Linda's Big Connections / Wheeling present:


- June 20th-22nd, 2008 - 2nd Annual Redneck Olympics Weekend - Linda's Cabin Westfield, WI
- Saturday, July 5th, 2008 (Super MEGA Dance) - Saturday Night Dance
- Saturday, July 19th, 2008 - Summer Sizzle Dance
- August 29th-31st, 2008 - Wet & Wild Weekend

For more info please visit Lindas' Big Connections. Linda's Big Connections is the Midwest's largest social club for big beautiful women, big handsome men, friends, and admirers!

Our Favorite Links
> 50% off Regular Price at the Torrid.com Clearance


> Fabulous buys on plus size clothing at Avenue.com. Click here to see the collection.


> Get the best selection of plus size dresses at Alight.com


> Welcome to Junonia! New customers receive $10 off a first order of $50 or more. (Offer applied at check out.)


> Plus size dresses for the holidays? Find exquisite cocktail & special occasion dresses at Kiyonna. Sizes 14 and over!

> Visit Hips and Curves today for festive plus size lingerie to spice up your holidays.