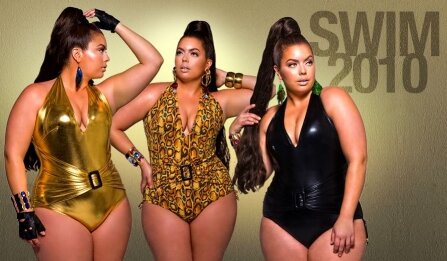 A couple of weeks ago Monif C unveiled her latest plus size swimwear collection, for Summer 2010. If you've followed Monif's designs over the year, you will know that she delivers styles to plus size women, like really no other designer does. Her styles are truly daring, stylish and really challenge the 'stereotype' of what some think big women should be wearing.
Her new swimwear collection is no exception. It's extremely stylish, daring, features bold prints, bold colors and fantastic designs. The picture above gives only a very small peek into the collection, so I urge you to visit www.monifc.com to check out all the swimsuits.
So tell me, what do you think of these? I am very tempted to order one, but am slightly unsure whether I like the 'Espana' style or 'Morocco' style better.