To make sure you keep up to date with our latest posts subscribe to our RSS feed. You can also receive updates via email, subscribe for free here!. Thanks for visiting!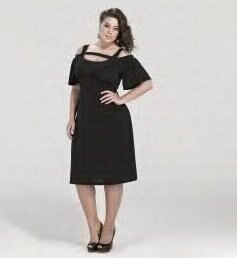 I've just been browsing around Kiyonna's latest additions and I am very impressed with the new stylish and daring designs they have introduced.
I am particularly in love with the Zoe Love Dress which has such an original neckline. It's chic, feminine, elegant and yet very sexy as it shows off the right amount of skin. The site says it's available in black as well as a lavender mosaic print, but I don't think the latter is yet available.
The dress retails at $118 and comes up to size 5X (30 – 32).
Love it!