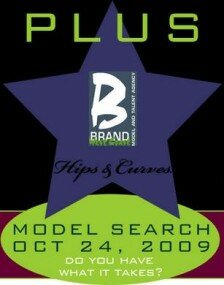 PLUS Model Magazine is launching its first Model Search at the Love Your Body Day event in LA on 24th October, 2009.
They are looking for models local to the West Coast area who are not signed with an agency and are between size 10 and 18, height 5′7″ to 6′0″ and ages 18 to 25. Five finalists will be chosen and compete for the ultimate prize.
The winner will receive:
A 1 year exclusive contract with Brand Model & Talent Agency.
Campaign with Hips and Curves.
The cover and editorial of PLUS Model Magazine.
The judges will be sending tips to you so that you are prepared for the Model Search on 24th October, 2009. Details on how to apply for this Model Search will be sent to all PLUS Model Magazine readers through their newsletter, so do sign up if you are interested!
For more information on Love Your body Day visit www.loveyourbodyday.com.
Not in the LA area? Not a problem! Watch out for more contests coming to different cities throughout 2009 and 2010.