New York Based Model, Elizabeth Green, arrived in Sydney, Australia to star in the FIRST EVER plus size fashion parade at Rosemount Sydney Fashion Festival (RSFF).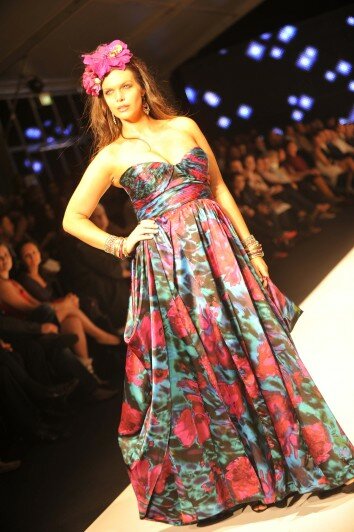 Elizabeth was the celebrity model at the city chic parades to be held at the Rosemount Sydney Fashion Festival event at Martin Place, on Thursday, August 20.
City Chic is a brand that designs high street fashion for young curvaceous sassy girls who are a full size 14 plus+!
Green was signed with premier modeling agency Ford Models New York in 2008 and has worked in the Big Apple for major clients including Macy's, Kmart, Sears, JCPenny, Nordstrom, Lane Bryant and various magazines.
She says, "the Plus-Size market in the United States offers a different look and feel to Australia. With the Australian market strongly focusing on offering items that are young, sexy and on trend. I've always wanted to buy garments I look and feel hot in that are similar to those my slimmer friends were purchasing and with city chic's collection now I can!"
"For example a highlight of the city chic parade will be the launch of exclusive Ed Hardy designs for plus size girls!"
Her Australian Agent, Darrianne Donnelly owner of BGM model agency, says, "Elizabeth represents a coup for the ongoing debates surrounding the fashion industry. Sizing up at a healthy size 14, she is breaking middle ground in an industry obsessed with measurables".
Donnelly continues, "Having spent her formative years being told to 'slim down' she left the glamour of modeling to pursue her English studies at Macquarie University. However, it wasn't long before she was asked to return to the circuit.
The industry was changing and magazines began requesting curvier girls"
Elizabeth rebranded herself as a 'plus size' model and began appearing in local campaigns for Bonds, Lovable and three television campaigns for Kellogg's Special K cereal.
Before going on the books of Ford New York, Elizabeth went to Milan.
"Sure I drew comparisons to Megan Gale, and hey who wouldn't be flattered by that? However, people would comment on how beautiful they though I was but also said they thought I was too big to be a model."
"I found this confronting as the average size Australian woman is now 14 to 16. However, determined to model in Italy I became a 'taglia piu forte' – a plus size model and worked successfully in this market.
Green concluded, "I'm delighted to be back in Australia and to be the celebrity model for city chic at the inaugural plus size parades at RSFF."