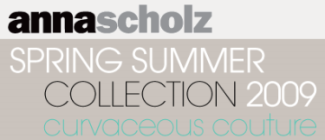 Renowned plus size fashion designer Anna Scholz has recently launched a brand new fashion collection, as well as a brand new clothing website.
The new Anna Scholz website is fresh and includes information on Anna's life, her design inspirations, as well as her favorite pieces in the new collection. This particular section of the website gives you the chance to get a more, up close and personal look at Anna Scholz.
Anna's new Spring/Summer 2009 collection includes a flirty wrap dresses, maxi dresses, summery linens, gorgeous knitwear, and many more glamorous items.
Visit Anna's brand new website today, and check out the new collection, at http://www.annascholz.com/.
Related posts:
Subscribe to Plus Size Clothing Scoop
Never miss another sale and stay up to date with the latest plus size fashion trends!
1. You can subscribe to the RSS feed to have future articles delivered to your feed reader.
2. Or, you can subscribe via email below, to start receiving updates straight in your inbox: