Now you can, build your own plus size bathing suit, by shopping through SwimsuitForAll's extensive range of curvy swimwear separates.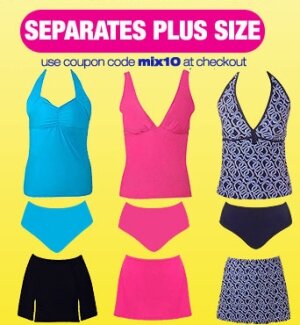 What sounds better than to create the perfect, custom swimsuit to fit your unique curvy figure? Many women find that when shopping for things like suits and swimwear, they would need different sized tops and bottoms; this is because many of us wear a bigger size at the top, and smaller size at the bottom, or vice versa. But two piece swimsuits usually come in set sizes, and many stores do not allow you to mix and match sizes.
Well ladies, SwimsuitForAll have solved this problem for us, because we can simply shop through their large selection of plus size swimsuit separates to create the perfect bathing suit for our figure. So we can easily select the right size for our top area, and our bottom area with super ease! And why not buy 3 separates instead of just two, this way you can actually create two swimwear styles with just 3 separates. In fact, SwimsuitsForAll currently have a great offer running which let us do just that and save.
They've also go a super offer currently running: buy 3 and get an extra $10 off! Just make sure to use coupon code mix10 at checkout for the discount to appear.