Plus Size Pants Trends for Winter 2009
Although it's fun to wear dresses and skirts on occasion, nothing feels more comfortable than a great fitting pair of pants, particularly when winter rears its chilly head. A snug pair of pants provides welcome protection against the harsh elements and cool temperatures. But pants should be more than functional. They should also pull together your wardrobe and make an elegant fashion statement that's uniquely yours.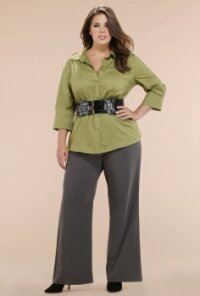 As with all trends, pants styles come and go making it necessary to reassess your wardrobe on a seasonal basis. Curious about the upcoming pants trends for winter 2009? Take a peek at what's up in the world of pants for winter.
Wide Legged Pants
The big news in the world of pants for winter 2009 is the re-emergence of the wide legged pant. While it's true that these pants can be hard to wear for people who are short and less slender, you can elongate the look by choosing a pair with a high waist and wearing them with a moderately high heel. If you're unsure about this trend, buy a single pair in a dark, neutral color such as black that will coordinate with a variety of items in your wardrobe. Keep the lines clean and simple by wearing them with a form fitting sweater in a similar color to give a slimming effect. Try on a variety of wide legged pants before purchasing. There are so many variations on this trend that it may take some experimentation to find the pair that's right for you.
Skinny Pants Remain
Even though wide legged pants will make their mark this winter, skinny pants will still be a hit. Women love the way these pants add the illusion of height and aren't going to give them up so easily. You'll find skinny pants in a variety of textures and materials including leather, plaids, and even tweed fabric. These slim pants look great with boots that end just at or above the knee. Pair them with warm, nubby sweaters and long loose tops. Throw on a fashionable belt to enhance your waist. They're also perfect for layering. Make sure you have a pair in black and pair in a darker shade of denim for maximum versatility.
Leather Pants
Though not everyone finds it to be politically correct, leather is a hot fashion item for winter 2009, particularly when it comes to pants. With winter 2009 focusing on the "grunge" look, leather pants are a great way to play up this trend and look fashionable at the same time. The best way to wear them is to keep the lines simple and avoid overdoing the trend. Resist the urge to pair leather pants with a leather jacket or leather blouse. Instead play up the difference in texture by pairing them with a silky blouse or a cashmere sweater. The contrast of a softly feminine top against the edginess of leather gives makes an appealing fashion statement. And if you don't approve of wearing animal skins, you have an alternative. You can now buy "vegan" leather pants made of "pleather", a plastic form of leather substitute.
If you're tired of wearing dresses and seek the comfort and versatility of pants, enjoy wearing the latest pants trends for winter 2009. You can be sure you'll be stepping out in style!