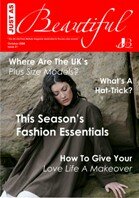 The October 2008 edition of Just As Beautiful magazine is out now.
Here is what's in store for you in this curvy edition:
Find out how to give your love life a makeover.
Find out this season's must-have plus size fashion accessories.
Read up on plus-size modeling and why the Just As Beautiful magazine Editor can't wait to crown Britain's Next Plus Model.
Find out how a 'hat-trick' could make your life much happier and easier.
Find out which company made it into this month's Big Business pages.
See exclusive plus-size fashion show coverage.
Much, much more.
If you are not familiar with this magazine, all you need to know is that it is the UK's leading online magazine created by and exclusively for plus size women. Plus, subscription is completely free! So just head on over to the official homepage and subscribe for free today.