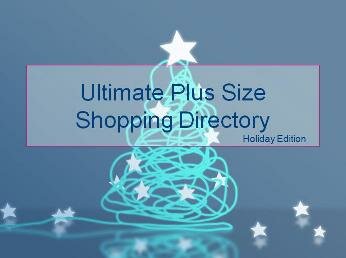 Christmas is less than two months away, and Thanksgiving is pretty much creeping upon us very quickly. It's amazing how time flies. I can still see myself becoming very enthusiastic at the thought of Summer looming in, and now the hot months are long gone, and the Holiday season is pretty much with us.
Okay, officially the 'Holiday Season' kicks off at Thanksgiving, so there is still ample time for you to shop around for any holiday fashion essentials you might need. But thinking ahead definitely has it's advantages. You have a greater chance of finding the items you want at the size you need. Also, being prepared helps you feel relaxed to really enjoy the Holiday season with family, friends and loved ones.
At times shopping can become very overwhelming, especially during the holidays, so we've decided to give you a bit of a helping hand by guiding you to the cream of the crop in holiday plus size clothing. We've created for you a free holiday plus size clothing guide which lists the best online stores specializing in full figured fashion, which carry gorgeous casual and formal wear perfect for any Holiday occasion. We have also included a special section which lists stores that ship to the UK and Europe, so this guide really is for everyone around the globe.
Whether it's Thanksgiving lunch, the office Christmas party, or that New Year's eve gala dinner, you will find all you need in this new guide. It's an easy download, so you can get it quickly, and best of all it's completely free. Download it here, and pass feel free to pass it on to your curvy friends as well.