Yep, Candy Couture Collection. Try saying that ten times fast!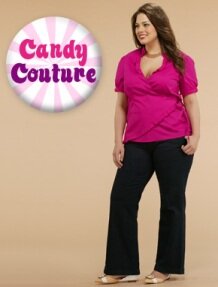 Funny name aside, this collection contains some must-have items for summer. Each one of the blouses, dresses and skirts in the collection comes in light-as-air chiffon (perfect for a breezy summer day), in fun and vibrant candy colors. This collection is set apart by fun detailing… like the animal print chiffon top with a fun-and feminine ruffle collar. Or the ruffle wrap dress in raspberry fuchsia.
They've also got some great sales going on, with 30-70% off on casual wrap dresses and dressier gowns for attending a summer wedding. Planning to order a whole pile of gorgeous dresses for summer? Go right ahead… shipping is only $8.00 all all orders, no coupon code required!