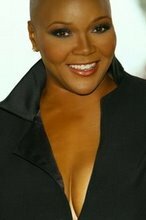 The original one day workshop for aspiring plus size models is heading to Baltimore, MD on Saturday June 21st, 2008. Here's what you'll learn from a group of industry experts attending the event:
Runway Bootcamp
Poise, posture, stance, poses and turns
Getting the money shot at the end of the runway
Walking in groups and pairs
Tips on industry standards vs. entertainment modeling
Audition techniques
Fit and Foundation Clinic
Undergarments 101 for the plus size diva
Selecting the right foundation undergarment for your body type
Plus Modeling 101
Learn about the industry from an insider
What does it take to start a career in plus modeling?
Where fo you start?
Strike A Pose
Everything you always wanted to ask a fashion photographer/stylist
The likes of Sharon Quinn, Gwen DeVoe, Madeline Figueroa-Jones, Jennene Biggins and Alva Page will be attending this event, making it one not to miss by all aspiring plus size models.
For further details on location, as well as registration, visit http://www.projectcurves.com and http://www.projectcurvesbaltimore.eventbrite.com.