A common problem, encountered by most plus size women, is the limitation of fashion choices available in bigger sizes. Thankfully, with the Internet around these days (and sites like Pasazz.net

) full figured women have much more options available to them, within easy reach. From the comfort of our own homes, we can sit back and shop around for hours, through the dozens of online stores specializing in bigger sizes. Then one click, two clicks, three clicks, and our orders are processed!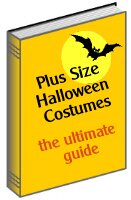 However, this is not always the case, especially when we are looking for particular items, like sports wear, maternity wear, and costumes!
With Halloween practically around the corner, I am sure a lot of your are looking around for that special costume to wear this year. Perhaps you have a Halloween themed party to attend, or perhaps you'd like to dress up to take your little one trick-or-treating. Maybe you're looking for a costume for your big and handsome partner?
Whatever the reason, if you have been looking for a plus size Halloween costume and have been running into troubles, Pasazz.net has come to the rescue!
I have drawn up what I'm calling 'The Ultimate Guide to Plus Size Halloween Costumes', which is an information packed free ebook which lists all the quality online stores which either specialize on plus size costumes, or have a specific section within their general store which caters to plus size women and men.
This free ebook include details of over 20 leading online stores, including of course website addresses where you can visit these stores and shop around. I am confident that you will find the costume that you are looking for at one of these costume stores.
So I encourage you to download our new and jam packed guide to plus size Halloween costumes today. Feel free to pass this ebook on to a friend or family member perhaps, to help make their Halloween a special and stylish one.
Enjoy the ebook, and happy costume shopping!