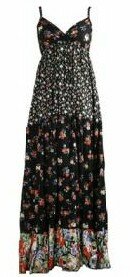 This month I am giving away a stylish plus size maxi dress, and today is the last day you can enter to partipicate in this giveaway! To enter this giveaway, just subcribe to receive Plus Size Clothing Scoop updates via email.
To do so, just type in your email address on the box located on the top right hand corner of this page, just under 'Subscribe via email:' and hit the 'Subscribe now!' button. After doing so, you will receive an email in your inbox with a link which you must click on in order to activate your subscribtion.
Good luck to all! The winner will be announced tomorrow.