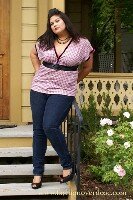 New items have been added to the edgy plus size clothing line available at Fashion Overdose. This store focuses on fem, street styled fashions which at first glance might not appeal to everyone. However I do encourage you to dig deep through the collection at Fashion Overdose as there are some gems to be found.
From their new collection, my favorite piece is the Jessica top. This is a tunic styled top with a difference. It is short-sleeves and included velvet and lave trimmings at both the sleeve and neckline. Tiny details which make this top unique. In comes with a faux satin belt at the empire waist, to further the curvy figure and flatter it. This is a very versatile top which can be worn in different occasions, during both the day and night. Sizes currently available at from 1X to 5X.
Various other new tops and dreses are available within Fashion Overdose's new collection. If you love color and are looking for something striking and different, this is the place to go to!